Wimbledon Stays Safe With Sleek Sport Sunglasses
It was a long wait, but Britain finally has a men's Wimbledon champion they can call their own. Yesterday Scottish born Andy Murray became the first British man to win the title in 77 years.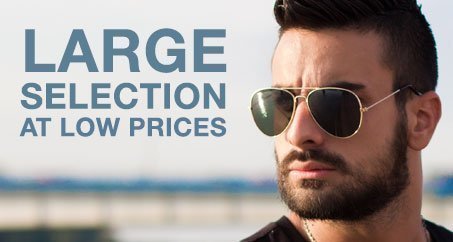 Now before you grab your racquet and try to swing like our new champion, there are a few things you should know about how your eyewear will affect your tennis game.
Safety Sunglasses Help Wimbledon Pros Succeed
1. Ahhh! Watch out for that flying….tennis racquet!
Protecting your eyes is important whether you are playing in your local park or winning national titles. At their most basic level, properly fitted safety sunglasses can prevent injury to the eyes from stray racquets or balls which make up a large portion of injuries on the court.
2. Wrap around safety sport sunglasses to the rescue!
To reduce the chance of injury to the eye from flying objects you need a pair of safety sunglasses that will protect you from all sides. Oakley sunglasses, like tennis pros Samantha Stosur and Janko Tipsarevic wear, wrap around the face to offer full protection from foreign objects as well as the sun.
3. You are stronger than the sun with UV protection…
On the court, the sun's rays can become quite intense. To get those hours of practice in it's important to protect your eyes against the harmful UV rays. Light reflecting off the pavement or grass can also cause damage to the surface of the eye. Wearing Ultraviolet (UV) resistant sunglasses will protect the eye from sun damage and help decrease the risk of cataracts and macular degeneration in the future.
4. See everything. Never miss a ball…or a beat…
Being able to see the court more clearly can also help reduce distraction (from all your cheering fans of course) and improve your game. Clearly seeing your opponent's movements and the ball can help you react quicker and improve your hand-eye coordination.
5. Oh no! My eyes are too tired to play!
And don't forget, your arm muscles aren't the only ones that get tired, eye fatigue and strain can also cause your game to suffer. In tennis this can happen when your eyes continually need to focus, for example, when following the ball across the court.
Using an anti-reflective coating on safety sunglasses to reduce glare or prescription safety sunglasses to keep everything in sharp detail will help reduce the frequency of eye fatigue.
Finding the right safety sunglasses for your sport is important.
Maybe we will see you as our next Wimbledon champion!