Wiley x prescription inserts
Are you looking for a pair of glasses that you are able to interchange the lenses?  Then check out our Wiley-X SG1 Matte Black frame.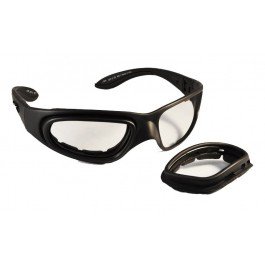 These are especially great if you are a Police Officer or in the Military.  You can purchase the frame and get one set of gaskets (a sunglass lens for driving) then you can order another set of gaskets with a different lens in it (yellow lens for shooting).  The Wiley-X SG1 frame is:
APEL APPROVED
MEETS GL-PD 10-12 MCEP STANDARD, SUPERSEDING MIL-PRF-31013 BALLISTIC STANDARD
TOP DOWN™ VENTILATION SYSTEM
AUTHORIZED FOR USE BY THE U.S. AND DANISH MILITARY
LOW PROFILE, LIGHT WEIGHT, NVG COMPATIBLE
MEETS ANSI Z87.1-2003 HIGH VELOCITY STANDARD
FIRST MODULAR SYSTEM CREATED
NSN OR GSA APPROVED ITEMS COME WITH HARD CASE
Stay fabulous and safe!
Jessica