Why Nike Prescription Glasses Are a Better Choice Than Drugstore Glasses
We've all seen them at the drugstore arranged neatly on racks with tempting price tags. These are drugstore glasses, which are usually sold at cheap prices. People who purchase these not only get a "good deal" on pricing, but also sidestep a trip to their eye doctor. This saves yet more money as well as time.
The process is easy enough. Just try out the different glasses on the racks and choose the pair that seems to work best. A drugstore also has plenty of packaged goods with lots of fine print for testing these glasses before deciding on a pair. What is wrong with this approach? Here are four reasons why this is a bad idea:
You Bypass Your Eye Doctor
There are other reasons for declining vision than age related changes to the eye. If you have more serious problems such as cataracts, glaucoma, retinal disease, or cancer, your doctor will catch them in their early stages. This can mean the difference between correcting the problem and losing your vision. Other health problems are revealed by a close examination of the eyes, which is why doctors check your eyes in a physical exam.
You May Get the Wrong Power
Although you may find a pair of glasses that improves your vision, they may be only that: an improvement. They still may not properly correct your vision. Only your doctor can determine the right prescription. If you don't get it right, it's like wearing someone else's glasses. Headaches, eyestrain, and other problems may arise after extensive use of them.
Your Eyes May Require Different Prescriptions
Just as one's two arms or two legs aren't identical, neither are the eyes. Most people require different prescriptions for each eye. However, both lenses of drugstore eyeglasses are identical. If you require a different magnification for each eye, using identical lenses means that one or both lenses are inappropriate for your eyes. This may also cause headaches, eyestrain, and other problems.
The Glasses Are Poorly Made
It is impossible for the supplier of drugstore glasses to make a profit selling high quality eyewear at cheap prices. Something has to give, and that is often the materials used for the frames and the lenses. You may not get a good or even comfortable fit. Dropping them a few times may be enough to pop a lens from the frame. This is especially true of rimless glasses, which do not have much frame material holding the lenses to start with.
The lens material may lack UV protection, which can lead to eye problems from long-term UV exposure. If the lenses are made from plastic, they are unlikely to shatter from normal use. However, they may have poor scratch resistance.
Nike Prescription Glasses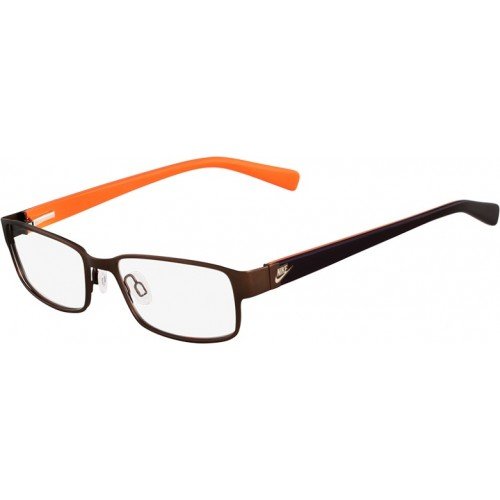 When you order Nike prescription glasses, you will find a form that allows you to input the specifications from your eye doctor's prescription form. You will get eyewear that provides the right correction for your eyes, which includes a different prescription for each eye if that's necessary.There is a wide range of frame colors and lens tints available. The lens material selection for Nike prescription glasses includes standard plastic, as well as UV blocking and high impact materials such as polycarbonate and Trivex.
In addition, the frames are strong and durable.Optional coatings are available such as an anti-reflective coating, anti-scratch coating, UV protection (not necessary for polycarbonate or Trivex), and an optional anti-fog treatment. In addition to getting the eyewear prescribed by your doctor, you benefit from a large choice of stylish Nike prescription glasses.
Nike prescription glasses do more than correct your vision, they protect your eyes and fit your sense of style. Don't hesitate to check our online selection. If you have any questions, please contact us.