Why Do Sunglasses Look Bad on Me?
If you have no need for corrective vision eyewear and do not normally wear standard, clear-lens eyeglasses, you might have noticed an interesting (and somewhat bothersome) phenomenon.
Why Do Sunglasses Look Bad on Me?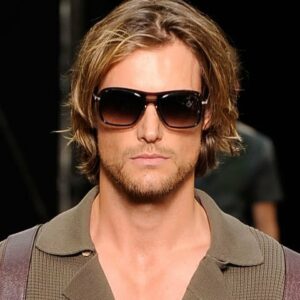 Whenever you try on a pair of those off-the-rack sunglasses you find in department or mall store displays, they just don't seem to look right on you. You like the style, the color, the lens tint of the sunglasses, but when you put them on and look in the mirror, they don't seem nearly as attractive on you as they do on the rack. Something's just a little bit "off."
That something is a conflict between the frame style and your face shape. If you don't wear glasses regularly you likely aren't aware of the importance of matching face shape to eyeglass frame style. Frames can either compliment your face shape or clash with it. Lens and frame size, also, is a big factor in appearance. Some faces look better with square lenses, others round; some faces with large lenses, others small lenses. The key is to learn what sort of framewear choice will work in harmony with the rest of your appearance. To do so, first determine your face shape, which will allow you to narrow down the choices of framewear that will look on you as sunglasses.
Here are several common face shapes and the type of frames that typically compliment them:
Oblong Face
For a face shape that is longer than it is wide, with fairly equal width at the forehead, cheekbones, and jaw line, aviator frames or similar wide styles will shorten and widen the face. A low bridge will help to shorten the nose.
Oval Face
For a face shape that is softly rounded and well balanced with high cheekbones, almost any frame will do. Wider frames will preserve the natural oval shape. If you have an oval face you'll probably look great in any style you choose.
Heart-Shaped Face
For a face shape that's wide at the forehead, with high cheekbones and a narrow chin, frames with wide bottoms will work well. Also try rimless frames in light, soft colors.
Round Face
For a face shape that is full and curved rather than angular, rectangular styles work as an offset to slim and lengthen the face. Also look for frames with temple accents or eye-drawing colors.
Square Face
For a face that features a forehead and jaw line that are equal in width, with an angular jaw, chose round and oval lens shapes, with frames that have a narrow width.
Triangular Face
For a face with a broad forehead that narrows to a sharp chin, try frames that are wider at the bottom to minimize the forehead. Also rimless and single-color designs.
Diamond Face
For a face with a small forehead that's wider at the cheekbones and narrows at the chin, cat-eyes, ovals, or top-heavy frames (possibly with accents on the brow line) will emphasize the cheekbones and highlight the eyes.
Use these basic recommendations to help isolate the frame style that's ideal for your face. Naturally, your individual results will vary, and how a pair of sunglasses looks on you depends on a couple of other factors, like your clothing choices, the use of hats or scarves, and your hair style. But face shape is the primary factor. Determine yours and you'll know where to start when it comes to selecting frames.