Where Can I Get Ray Ban Prescription Sunglasses?
Ray Bans are some of the most popular and recognizable shades on the market, and they do come in prescription.
Want Ray Ban Prescription Sunglasses? Yes, You Can Get Them.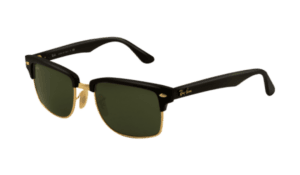 There's a reason Ray Bans are so popular. Not only is a pair of Ray Ban sunglasses a great-looking pair of shades; they're sturdy, well-built, long-lasting, and great for protection from the sun.
Ray Ban prescription sunglasses are especially awesome because they give you all of the features and recognition of Ray Ban while accommodating your prescription and allowing you more options as far as lens colors go. A pair of prescriptoin Ray Ban sunglasses is unique to its owner and bound to turn some heads.
If you're in the market for a pair of Ray Ban prescription sunglasses, here's what you need to know:
All of the popular Ray Ban models can be found on our web site, and they're available with prescription lenses or the standard lenses Ray Ban offers them with.
Prescription sunglasses lenses vary, and you should choose your lens options and colors based upon what you're using the shades for.
Polarized lenses are the darkest lenses for the sun. They're most suited to driving, boating, fishing, and snow sports because they block a lot of reflected light off of things like cars, water, and snow. They're also great for sensitive eyes because they're so dark.

Tints in your prescription Ray Bans are based upon personal preference. You can choose a lens color and prescription type to match your needs and personal preference.
Ray Ban prescription sunglasses should be ordered with care. Double check all of your prescriptoin numbers before you submit an order to be sure you've filled everything out correctly.
Mirror coating, anti-reflective coatings, and anti-fog coatings are other features you can use to enhance your new prescription Ray Ban sunglasses and further make them your own.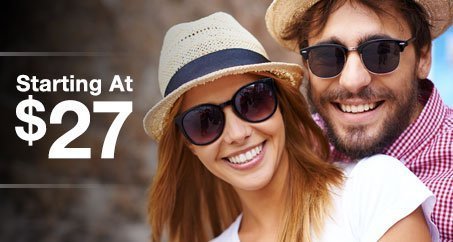 It's pretty easy to see why Ray Ban prescription sunglasses are so popular. They're cool, comfortable, and utterly useful. They can provide excellent UV protection, improve your vision for whatever activity you're doing in the sun, and make your time outdoors more comfortable.
If you've never owned a pair of Ray Bans or a pair of prescription sunglasses, now's the time. Your eyes will be grateful for the protection, and you'll love the looks you get from wearing some of the coolest shades around. More than anything, you can't help but appreciate the perfect match of form and function while wearing a some of the coolest prescription sunglasses around.
If you have any questions, leave us a comment or give us a call! Thanks for reading!