Where are Prescription Safety Glasses Made?
The manufacturing of prescription safety glasses can seem like something of a mystery. Where are they made?
Where Prescription Safety Glasses are Manufactured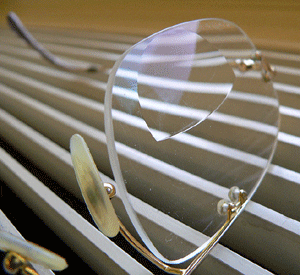 Prescription safety glasses are "made" in several different places, if you want to get technical. Most prescription safety frames are manufactured overseas in Taiwan or another Asian or Middle Eastern country. Prescription lenses are molded into "semi-finished" lenses all over the world, but the semi-finished lenses need to be processed into prescription lenses at an eye lab before they can be sold, and that's where we come in.
Prescription safety glasses are made using a frame, semi-finished lenses, and sometimes a coating facility. We do all of our prescription lens manufacturing in-house at our facility in Middlesex, New Jersey, USA, though we occasionally send our lenses to outside labs (in the US) to have special coatings applied. We do almost all of our work in-house because it lowers the cost to you, the end-user. And, while we don't have the capacity to mold frames or semi-finished lenses in-house (such operations occur on a very grand scale), we are committed to accomplishing as much of the manufacturing process as possible here in the United States.
Here's what you should know about where prescription safety glasses are made:
Most prescription safety glasses frames are manufactured in Taiwan or another country outside of the United States.
Most semi-finished prescription lenses are molded outside of the United States.
All of our prescription lens processing and coating is done in the United States of America.
We have a full in-house prescription optical lab for glass and plastic lenses, allowing us to process your prescription lenses in-house and bring your cost down significantly compared to other prescription retailers.
Most of our coatings (mirror coating, Fog-Free coating, anti-reflective coating) are done at outside labs in the United States which specialize in coatings.
Prescription safety glasses take precision machinery and calculations to be created, especially when they're done in wraparound styles. We take pride in specializing in difficult prescriptions in wraparound frames and being able to offer low prices to hardworking Americans on stylish and high-quality prescription safety glasses.
If you're in the market for prescription safety glasses and you need to save money, check out our selection online. Also, if you are trying to get prescription safety glasses that are made in the USA, we pride ourselves on being able to claim that because all of our final manufacturing and assembly occurs here.
If you have any questions about prescription safety glasses or how they are made, please don't hesitate to ask a question in the comments below or give us a call. Thanks so much for visiting, and stay safe!