What's the Difference Between Prescription Glasses and Prescription Safety Glasses?
Most people who need prescription safety glasses also wear regular prescription glasses, and some of them wonder, "What's the difference between regular prescription glasses and prescription safety glasses?" In other words, what makes prescription glasses "safety"?
Prescription Glasses Vs. Prescription Safety Glasses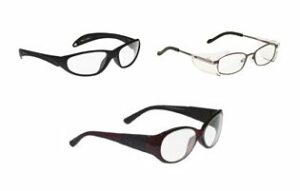 There are a few qualifiers in the United States that a pair of prescription glasses must meet in order to be considered safety glasses. Frame shape, lens material, and the markings on the glasses all affect whether or not The Occupation Safety and Health Administration (OSHA) is going to be happy or unhappy with the glasses you're wearing to protect your eyes.
The American National Standards Institute, or ANSI, is responsible for determining the qualifications in the United States for safety glasses. A pair of glasses must meet all of the requirements of ANSI's Z87.1-2003 standard to be considered safety glasses:
Your lenses must be impact resistant. At a minimum, the lenses on a pair of safety glasses must be able to pass a "dropped ball" test in which a 1-inch diameter steel ball is dropped onto the lenses from a height of 50 inches. The ball cannot penetrate or crack the lens.
Your lenses must stay in the frame. During the dropped ball test, if part of the lens's edge cracks, if part of the lens is displaced from the frame, or if the entire lens comes out of the frame, the glasses fail.
Your frames must pass a "high impact" rating, in which 1/4″ steel balls are fired at the frame at 150 feet/second and a 500-gram mass is dropped onto the frame from a height of 50 inches. Neither can break the frame.
The frames and lenses must be marked for their level of protection. The lenses must be etched with the manufacturer's mark (our is "PS" for our parent company, Phillips Safety Products, Inc.), and the frames must be printed once on each removable part (i.e., each arm and the frame front) with Z87.
The frames and/or lenses and/or side shields must offer a total coverage to ensure that the eyes are protected from the front AND the from the sides.
There is also a "high impact" safety rating for lenses which we currently only offer by special order. The standard impact safety standard is accepted in most work environments and offers ample protection for most jobs requiring safety glasses. While glass and plastic can meet these impact requirements, it is always a good idea to order polycarbonate lens material on safety glasses because polycarbonate is the most impact-resistant lens material on the market today. It never hurts to be as safe as possible.
If you are interested in getting a good-looking pair of prescription safety glasses, you can rest assured that all of our prescription safety glasses marked Z87 will give you what you need. If you have any questions about safety eyewear and what will work for your environment, please don't hesitate to give us a call or leave a comment below. We'll make sure you get what you need!