What is the Most Common Geek Style Glasses?
"Geek" or "Nerd" glasses have experienced quite a turnaround in the last several decades.
The Most Common Geek Style Glasses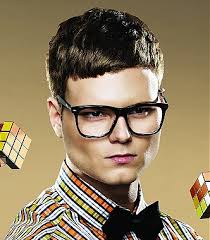 Once considered the providence of smart but socially-inept and physically-challenged people, geek styles are still associated with those outside the mainstream. But "bucking the trend" has become fashionable, reversing the stigma of heavy-duty eyewear. Today, technology abounds, and the geeks who design cars and computer systems are now cool.
A 2009 poll by the College of Optometrists found that:
43% of respondents think that glasses make people look more intelligent
36% of respondents think glasses make someone look more professional
40% already wear or are considering wearing clear-lens glasses that they do not require for vision correction
"It's great to see a shift in how we perceive glasses," noted Dr. Susan Blakeney, optometric advisor to the College of Optometrists, "but it's important to remember that regardless of fashion trends, wearing spectacles is about seeing clearly and comfortably, and not just appearance. There is a huge range of spectacles on the market today so it should be easy to find something to suit everyone."
If you wear glasses for corrective-vision issues, you may very well find that Geek or Nerd glasses suit you well. They come in several varieties: rounded frames for John Lennon or Harry Potter look, semi-rimless browline frames that appear to have come direct from the NASA control room of the Sixties, large-lensed "Clark Kent" glasses to keep your secret identity safely tucked away. There are however, two geek styles – one for men and one for women – that stand head and nerdy shoulders over the competition in terms of popularity.
For men, wayfarers are undoubtedly the hipster frame of choice. This thick, blocky look pulls no punches and makes no apologies; wayfarers dominate the face, and that's the way true geeks like it. The wayfarer style was first popularized in the late Fifties by music legend Buddy Holly, who enjoyed only a short time in the spotlight but is still known for his classic rock 'n' roll hits and his iconic glasses. Buddy left us too soon, but left us with a timeless eyewear fashion that was his trademark.
The Fifties are also the period during which the most famous and fashionable geek glasses for women came into prominence. Cat eye frames, with their lopsided teardrop shape and distinctive upper-edge sweeps, perform the same function as a heavy application of eyeliner: they exude a feline – and an unmistakably feminine – presence. That female vibe is often enhanced by jeweled accents to highlight the upper frame. Whether associated with Audrey Hepburn in BREAKFAST AT TIFFANNY'S or the classic poodle-skirted bobbysoxer of the Fifties, cat eyes are still in.