What Are the Best Sunglass Lenses for Driving?
Caught in traffic, with reflected sunlight bouncing off all the cars around you. Driving into the sun, no matter the time of day. And perhaps worst of all, early mornings or late afternoons, when the glare from the sun on the horizon is so bad it blinds you to the cars ahead. There's no question about it: one of the most convenient – and downright important – times to have sunglasses handy is when you're driving.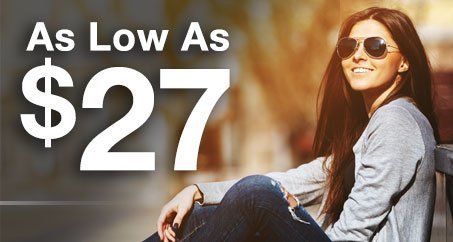 Which Sunglasses Should I Get for Driving?
If you wear corrective eyeglasses, you can't just pluck a pair of sunglasses off the bargain rack at the nearest convenience store. But you do have options. A separate pair of prescription sunglasses, cut with your exact prescription and with lenses at a shade that's just right for you, is certainly recommended. There are also fitover sunglasses – a full-frame style with darkened lenses that fits over (and completely covers) your eyeglasses. And there's clip-ons, which are unobtrusive wire-framed sunglass lenses that clip on to the front of your eyeglasses.
These are all very viable choices but all require one thing: a purchase of separate eyewear above and beyond your regular prescription eyeglasses. Ideally, if you're in the market for new glasses, you'd select transition lenses, which darken automatically in sunlight and essentially combine the functionality of prescription eyeglasses and sunglasses. Transitions, however, can offer limited sunlight protection while in the car; modern windshields already block ultraviolet (UV) light, so transitions will often not darken fully when you're driving.
The solution to this problem – and therefore the best sunglasses for driving – is DriveWear lenses. Developed by Transitions (the creators of the original transition lens), DriveWear lenses feature photochromic molecules capable of reacting to both visible and UV light. This means DriveWear produces the only lenses that can sense and adjust to light conditions both inside and outside of the car.
The testimonials below prove that Transitions has really hit it out of the park with DriveWear.
Henry L., M.D. – "Just wanted to let you know that I purchased a pair of DriveWear lenses and could not be more pleased. Their superiority over all other sunglasses I have owned is unrivaled."
Neil P. – "I'm an optical technician with over thirty years in the optical industry. Over this period of time I have worn different types of sunglass lenses, but have found something was missing e.g. too dark, too light, too much glare. Here is a lens that not only is photochromic, but actually cuts out the glare…I find myself wearing my DriveWear indoors as well as outside. The contrast is excellent for early morning and evening driving. These are the best sunglass lenses I have ever worn, all driving conditions are covered. A true pleasure to wear."
Drake – "So far the lenses are amazing! Partly cloudy day today – very comfortable. Got some sun and they darkened up nicely. Un-scientific observation was about a brown 2.5 or 3 in the car."
Pat – "To have a lens change to its maximum darkness behind the windshield of the car is remarkable. I also had the opportunity to wear it at the lake when the sun was glaring off the ice. The polarization and lens color were just what I needed. It's nice to have all this in a lightweight plastic. This lens does everything the pamphlet says it does. I love them!"
Visit Rx-Safety to find an enormous selection of frames in all price ranges and available with DriveWear lenses.