Tips For Cleaning And Adjusting Your Frames And Lenses
Do you find yourself taking your glasses on and off daily because you have to constantly clean them or make adjustments to them? Well, you are not the only person who has to do this. Fortunately, there are some things you can do to ensure your glasses will stay clean. There are also ways to make adjustments to your frames so you will not have to be bothered by the uncomfortable feeling.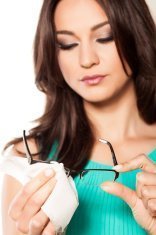 Cleaning Your Frames And Lenses
When you think about cleaning and adjusting your frames and lenses, you would think that it would be a very easy process, right? Well, not everyone finds it easy to clean their lenses. It can certainly be difficult to remove dirt, scratches, and smudges from lenses.
If you have to constantly touch your glasses to adjust them, you will have fingerprint stains on them as well. If you attempt to use paper towels or Kleenex to clean your glasses, you will have more cleaning to do because of the lint stains that will be left on your lenses.
A method that is very common for people who wear eyeglasses is to run the eyeglasses under running water and clean the glasses with soap. You can run your fingers smoothly on your lenses to clean the stains and fingerprints.
An important tip to remember is to limit the amount of soap you use to clean the lenses. Do not use a piece of tissue to dry the glasses, instead, you should use a cleaning cloth that is designed for cleaning eyeglasses.
Adjusting Your Glasses
If you ever find yourself needing to adjust a certain part of your frame, you can heat that part of the frame by using a source of heat or by running that part under warm water. After you have heated that part of the glasses, you can adjust it to your liking. It is very important that you do not make an attempt to bend a part of your glasses if you have not properly heated that part. Heating that part of your glasses for about two minutes should be good enough to allow you to bend it properly.
Throughout the day, your glasses are bound to get dirty. Something will find its way onto your lenses, regardless if you have to be indoors or outdoors for a significant amount of time. There will be fingerprints and smudges on your glasses by the time you make it home to take them off. Although these things are annoying, they are just a part of the world we live in when we wear glasses.
As time goes on and you find yourself wearing the same glasses for a significant period of time, they will eventually start to bother you. Sometimes the glasses will be too tight and sometimes they will become too loose. You do not have to just deal with it; there are many things you can do about it. There are plenty of ways you can clean your glasses and there are plenty of ways you can make adjustments to them.
One of the best things you can do to ensure you will have no problems cleaning your glasses is to always carry a microfiber cloth with you. When your microfiber cloth gets dirty, you should clean the cloth with soap and water.
When you are not using your glasses or your cloth, you should make sure you keep them in an eyeglasses case so there will be no dirt or debris on them when you need to use them again.
If you need more information on eyewear or tips on how to clean your eyewear, contact us