Sunglasses Options for People with Glasses
You see them all the time in department stores and drugstores: circular towers with row upon row of great-looking sunglasses. You probably walk right past them with a little twinge of envy. Why? Because you already wear glasses. Prescription eyeglasses. These racks of sunglasses are for people who enjoy natural 20/20 vision. They're not for you.
What are the Sunglasses Options for Glasses Wearers?
But the perfect set of sunglasses for you is out there. You may find it in a store, at the optometrist, or for even better selection and price, online. The point is, even though you wear corrective eyewear, sunglasses are still available to you. You even have choices as to the type and format of your sunglasses. You can select:

Transitions and Transitions Drivewear
If you're currently considering an upgrade or replacement of your standard eyeglasses, or you're ready for a new prescription and will either be buying a new frame or replacing the lenses in your old frame, consider ordering transitions or DriveWear lenses. Transitions feature a molecular coating that automatically darkens in the presence of the sun's ultraviolet light. Yet they remain clear indoors or at night, when they're subjected only to artificial light. Transitions essentially function as standard prescription glasses that convert to sunglasses when you need them and back again when the sun sets.
Because automobile windshields are already treated to block UV sunlight, that light does not reach your glasses; hence, transitions do not fully darken when used inside a car. DriveWear lenses were developed to combat this problem. They operate exactly as transitions do but will also work when used behind the UV-protected glass of a windshield. This negates one of the leading drawbacks of transition lenses.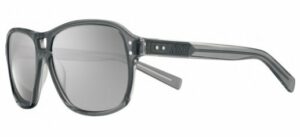 Transitions and DriveWear work well but only darken to a certain degree. If you're one of the folks who prefer darker lenses, or a different style frame for your sunglasses, another choice is simply ordering a pair of prescription sunglasses to alternate with your regular glasses when the sun is out. Paying for two separate sets of prescription eyeglasses might seem like a real blow to your budget, but remember that your sunglasses will not be used all the time. No-frills frames and lenses, even at prescription strengths, can be found at MyEyewear2go at extremely affordable prices and are perfect for that second set of glasses.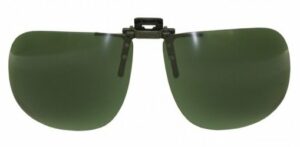 Speaking of affordable, clip-on sunglasses are the most cost-effective way to convert glasses into sunglasses. Held in place with a spring-loaded pinch clip, clip-ons temporarily cover your standard lenses. Most flip up and out of the way when not in use.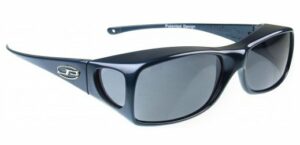 If you don't like the look of clip-ons you can opt for a pair of fitovers. These full-frame glasses are designed to completely cover your existing glasses, giving the appearance that they're the only pair you're wearing. MyEyewear2go carries a large selection to cover any shape eyeglass lens, and many feature polarized lenses and side shields.