Sunglass Tints on Prescription Safety Glasses
Need a pair of prescription safety glasses that'll also protect you from the sun?
Sunglass Tints on Prescription Safety Glasses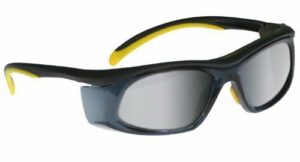 Prescription safety glasses with sunglass tints are a great way to maximize the usefulness of your eyewear. When shopping for prescription safety glasses on our site, you have the option of choosing a lens color for your eyewear. If you choose a sunglass tint such as polarized gray 3, you will have a great pair of sunglasses for safety.
People who are interested in sunglass tints on their prescription safety glasses should be aware of a few things. If you're working on a job site that requires ANSI Z87 approved safety glasses, they may not allow tinted lenses. Check with your supervisor. Also, if there is the possibility that you'll also have the wear the eyewear indoors or at night, you may want to avoid a permanent tint or get a second, clear pair for darker environments. Finally, polarization affects your ability to view LCD displays and should be avoided if computer work is required.

Here are a few things to know if you're considering sunglass tints on prescription safety glasses:
Some job sites do not allow tinted safety glasses.
Polarization affects your ability to view some types of screens and should be avoided if much work with electronics is required.
Permanent tints such as polarization, tints, and Drivewear are only a good idea if you're only going to use the eyewear outdoors, during the day.
Transitions lenses are a great choice if you need prescription safety glasses to work as sunglasses during the day and be clear at night.
If you ride a motorcycle and are considering a permanent tint, keep in mind that you will have to change your safety glasses when the sun sets.
If you're considering a pair of prescription safety glasses with a sunglass tint, it's important to ensure that you're getting eyewear that suits all the possibilities you'll encounter while wearing them – sunlight, indoor lighting, night time, driving, etc.
We have customers order sunglass tints on prescription safety glasses every day. For many people, it is far and away the best choice. It is an especially safe option for people who work outside during the day and are sensitive to bright light. People who are less sensitive may want to consider wearing a brimmed hat or getting Transitions.
If you have any questions about prescription safety glasses, sunglass tints, or what's right for you, please don't hesitate to give us a call or leave a comment below. Thanks for reading, and stay safe!