Sports Glasses for Fall Sports
This summer has been flying by, and with it fall sports are swiftly approaching. Are your eyes going to be well protected this season?
The Best Sports Glasses for Fall Sports
Fall sports from football to field hockey require safety eyewear to ensure that your eyes are well-protected during practice and games. Sports eye injuries can result in permanent injuries and even blindness, and do with regularity every year. More importantly, those who wear prescription glasses are more likely to have an eye injury while wearing regular "street glasses" compared to those wearing no eyewear at all, so prescription sports glasses are an important investment for any eyeglasses wearer participating in sports.
If you're planning on playing a sport this fall and wear prescription glasses, we've mapped out some key choices to consider so you have a good idea of what to get for the sport you're planning to play. Each sport brings with it its own risks and eye hazards, so each sport's eye protection will be slightly different. If you'd like to keep your eyes protected while looking cool in some stylish sports shades this fall, here are some great options:
Football
Liberty Sports Maxx 31 is a perfect choice for those participating in football. This frame meets or exceeds ASTM F803 for sports impact resistance, giving you superior protection during this rough and dangerous sport. Additionally, the Maxx 31 uses an adjustable strap system instead of arms to ensure that your prescription football goggles fit under your helmet. This fall, are you planning on playing football? Prescription goggles or football prescription glasses are a necessary piece of equipment if you wear prescription glasses. And the nice thing about the Maxx 31 is that it looks cool while offering excellent protection and comfort. A comfortable strap and soft rubberized nose pad will ensure that you're not sacrificing comfort for safety, and these glasses for football come in two sizes and several colors. If you're playing football this year, you can't go wrong with the Liberty Sport Maxx 31 football prescription goggles.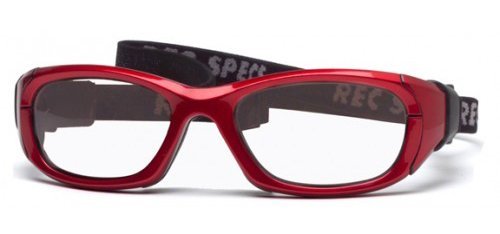 Field Hockey
Liberty Sports Maxx 30 is the best choice if you're looking for field hockey glasses or field hockey goggles. These prescription field hockey glasses are ASTM F803 approved for impact resistance, ensuring that your vision stays safe no matter how crazy things get on the field. They also feature extremely soft and comfortable nose pads, temple padding, and an adjustable strap to ensure that these prescription sports goggles stay comfortable and secure on your face. With polycarbonate lenses and the strap, your eyes will be extremely safe. In addition, the Liberty Sport Maxx 30 comes in two sizes and several colors to ensure that you find the style that works best for you.

Soccer
The best choice for soccer goggles is the Liberty Sport Morpheus 1 for women and the Liberty Sport Morpheus 2 for men. These prescription sports glasses for soccer are ASTM F803 approved for impact resistance in sports while looking stylish with two-color patterns and a sleek wraparound design. These glasses feature soft arm padding for comfort, removable and adjustable straps to keep the eyewear on during extreme play, and full prescription flexibility to accommodate most prescriptions. If you're looking for sports glasses for soccer, you will be extremely satisfied with the protection, durability, and comfort you get with the Liberty Sport Morpheus. These frames are available in two sizes and several color choices so you can find the perfect pair for your size and your team's colors.
Volleyball
If you're a volleyball player, we've got some great Oakleys for you to consider. The Oakley Straight Jacket (bottom, left) is a perfect choice for men's beach volleyball sunglasses, featuring secure wraparound frame shape, Oakley's three-point fit for comfort and frame stability, Z87.1 impact resistance, and curved lenses to keep the sand and debris from being kicked up into your eyes. The Straight Jacket has been one of Oakley's most popular styles for years, featured in many sports magazines on professional athletes as well as on the faces of countless celebrities. If you're looking for safety, style, and function in volleyball sunglasses, the Oakley Straight Jacket is a perfect choice.
For women's beach volleyball sunglasses, the Oakley Break Point (top, right) is the way to go. These sleek "Jackie-O" style big-lenses volleyball sunglasses are great for days on the beach and playing volleyball in the sand. They feature Oakley's signature Unobtainium nosepads and earpads to increase friction when things heat up, a stress-resistant frame material, and curved wraparound lenses to keep the sand out of your eyes. These grippy and comfortable sunglasses will hold fast to your face without causing pressure points or discomfort, even after a full day's use, so you can focus on the game. Best of all, these beach volleyball sunglasses look great while giving you the protection you need out in the sun.
Sports eyewear is a smart investment and should considered by anyone playing a sport this fall, especially one that poses a risk to your eyes. Prescription eyeglasses wearers have an added risk of eye injury when playing sports with standard corrective glasses, or "street glasses," compared to those who are wearing no eyewear at all. If you wear prescription glasses and are planning on playing sports this fall, consider one of these great styles of prescription sports glasses as a necessary addition to your sports equipment. Not only will these glasses keep your eyes safe; they look great, are extremely comfortable, and are durable enough to last until you get your next eye prescription.
If you have questions about sports eyewear, leave a comment below, and thanks for reading!