Safety Glasses with Prescription Inserts
The majority of the prescription safety glasses in use today function just as ordinary safety glasses do, only utilizing prescription lenses. Such safety glasses are ordered with a specific prescription and the lenses are cut, ground, polished, coated, and mounted within the frame. The result is a pair of safety glasses with impact-resistant lenses and frames, conforming to ANSI Z87.1 standards, but featuring the perfect corrective-lens vision you enjoy in your standard eyeglasses.
There is a secondary option, however, that's useful for a certain niche market. Safety glasses or goggles with prescription inserts feature two distinct sets of lenses: framed prescription lenses which are mounted behind larger, non-prescription lenses or shields. The outer lenses provide the impact resistance while the inner ones supply the vision correction.
This format exists for a few reasons. The larger outer lenses often provide wider and better coverage for additional facial protection against projectiles, splinters, metal filings, chemical splashes, sawdust…basically anything that can come into contact with your face and everything you wear safety glasses for in the first place. This type of safety eyewear can also benefit those who wear contacts in conjunction with non-prescription safety glasses. Occasionally contacts cause irritation or need to be removed because they've been in use for too long a period, and if that happens when there's still work to be done, a handy pair of safety glasses with prescription inserts can save a lot of down time.
Additionally, if you are exposed to an environment that's tough on safety glasses, the type with separate prescription lenses could prove to be a very cost-effective solution. If a pair of all-in-one prescription safety glasses are scratched, worn, or damaged in any way, the entire unit is compromised. If, however, you use prescription safety inserts under safety lenses, only the outer lenses need to be replaced.
Here's a small sample of the prescription insert safety glasses and goggles that are available at Rx Safety:
Meets ANSI Z87.1-2003+ high velocity protection
Meets VO Ballistics Standard MIL-PRF-31013
Prescription insert also adapts to PT-3 and Nerve goggle
New "TAKE-FLIGHT" nose piece adjusts to any nose bridge
Wrapback design provides the ultimate peripheral vision
Reduces backlit glare
Includes zipper-top nylon case and cleaning cloth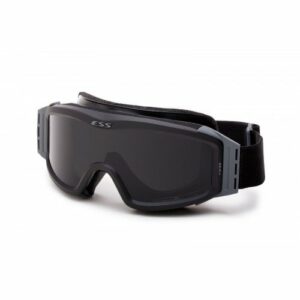 Features extra thick, 2.8mm polycarbonate outer lenses
Prescriptions lenses fit in insert that clips behind the front shield
Offer maximum protection and 100% UVA/UVB filtration
Universal fit frame is durable and easy to clean
Includes anti-microbial OpFoam face padding
Utilizes full-perimeter ventilation and filtration system to minimize lens fogging and protect from airborne particles, dust, and splashes
Smith Optics "Outside the Wire" Goggles
Inner prescription lens insert clips behind the front shield
Features maximum ballistic protection and superior optical quality
Custom-fit strap system for a comfortable and secure fit
Tapered lenses correct distortion and offer 100% UV protection
Includes anti-fog and scratch-resistant coatings
Anatomically optimized design for seamless helmet integration
Rx Safety also carries a selection of prescription-insert safety glasses for specialized use, such as glass and metal working, arc flash and electrical work, respirator mask inserts, and more.