Reduce Your Headaches With Prescription Safety Glasses
It's important that you take care of yourself, and that's especially true for your eyes. Much of our time during the week is spent at work, so if you need to wear glasses, then you should really consider prescription safety glasses. These will not only make your job more comfortable, but will help you to see more clearly and perform your job better.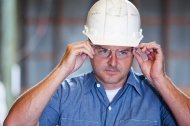 If the type of job you do requires you to wear safety glasses on top of your regular eyeglasses, then you need to consider prescription safety glasses. If you don't wear your prescription when you are supposed to, you may find yourself suffering from headaches. This is because you are straining your eyes, and especially when you work long hours, it can be very detrimental to your eyes.
Additionally, you're not supposed to work without wearing your prescription. But wearing two pairs of glasses at the same time is also a common factor for headaches. By getting a pair of prescription safety glasses, you'll still be maintaining your safety while performing your job duty, but you will also make your work easier.
Why Your Regular Glasses Aren't Enough
Many people are under the impression that if they need to wear prescription glasses, simply wearing their regular glasses is good enough. However, the Occupational Health and Safety Organization deems that in jobs that require as such, you must either wear prescription safety glasses, or safety glasses that can successfully be worn over your regular eyeglasses without disturbing their position.
It's also important to note that when trying to wear a pair of safety glasses over a pair of regular glasses and still getting both of them to function properly together is a very difficult task. Because of this challenge, it's a better choice for you to simply get a pair of prescription safety glasses. This way, you'll make your life easier by wearing just one pair of glasses at the same time, and you'll also be abiding by the law.
Where Function and Style Meet
You don't need to worry about how your glasses will look. Generally speaking, prescription safety glasses are available in a large selection, based on your individual needs and preferences. That's true for both genders, and you can even add some fashion to your design selection.
Whether you need glasses that are metal safety, plastic safety, wraparound safety, rimless, lighted, goggles, and even bluetooth safety glasses, you can find exactly what you need. And because it's important to protect your eyes from hazards, like chemicals, dust, and other forms of debris, adding style is a bonus to your existing need for a prescription.
Affordable Option
We understand that in today's day and age it's important to watch your finances. That's why as a family owned and run business we strive to keep our costs down, in order to make getting the prescription safety glasses you need as easy as possible. We have a quick turnaround rate, and can generally get your order shipped within a week. With so many glasses to choose from, you can pick out the perfect set for you and your needs. And with over 100 years in the optical business, we'll be sure to take care of your eyes.
Whether you wear safety glasses for work or for play, it's important to be able to see. When you are able to see clearly it means everything you do will be done with perfect vision. Not to mention that you will follow the law! Help to reduce your headaches by getting a pair of prescription safety glasses. To learn more about the right pair for you, please contact us.