A Quick Review of Eyewear Parts and Terminology
Shopping for eyeglasses requires becoming familiar with lots of eyewear vocabulary. You might be shopping for eyewear for the first time, or you might have just never gotten around to learning proper eyewear vocabulary. Here's a brief list of definitions we've created for eyewear parts: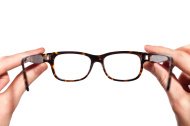 Lenses
The lenses of eyewear refer to perhaps the most important parts of eyewear: the pieces you look through. Lenses are made with various materials, and you will find prescription and non-prescription lenses on our site. Some lenses are interchangeable. Sunglass lenses often have UVA/UVB protection to help protect the eyes.
Rims
The rims of eyewear refer to the frame material surrounding the lenses, such as wire or plastic. This material holds the lenses in place and comes in many styles and colors. The materials might be chunky and durable, or more delicate, depending on the style of eyewear.
Screws
The screws of eyewear refer to the mechanism between the front frame and the temple arms on the sides. This holds the fronts and the sides together.
Hinges
The hinges are the pieces that help temple arms bend to fit the face well. They are usually near the screws of the eyewear.
Nose Pads
The nose pads are the small, flexible clear pieces that make eyewear for comfortable around the nose. They usually adjust to fit various nose sizes. Some types of eyewear have nose pads for extra comfort, and some styles don't require nose pads.
Temples
The side arms of eyewear are often referred to as temples. The side arms should fit well on the side of the face and hook over the ear. Some glasses have earpieces at the end of the temples.
Enjoy looking through our selection of eyewear on our site, and buy the right eyewear for you. To learn more about our online eyewear store, contact us.