Prescription Sports Goggles for Kids Basketball
If your son or daughter plays basketball and wears prescription glasses, you know that even with a safety strap, standard glasses do not hold up well to the rigorous back-and-forth running of the court or any ball or body contact. Your child likely won't be allowed to use them due to the strong potential for loss, breakage, game stoppages, and safety concerns for all players. Contacts will work but are not the cheapest option, and inserting contacts is not a favorite task for many kids.
To keep all players safe and still protect your child's eyes (and preserve their vision), a pair of sports goggles is likely the answer. Sports goggles strap tightly to your child's head so that they will not slide out of position or fly off while the wearer is in action. They're also made of rubberized and plastic materials for durability. And they're more cost effective than contacts. You can even use them for multiple sports or activities.
You may worry about your child's self-esteem if sports goggles are needed, how they'll look to their peers…but the "swim goggles"-look from the days of Kareem Abdul-Jabbar are well behind us (although if you like that retro-basketball look, those goggles are still available). Today's young basketball players usually prefer sports goggles that reflect today's streamlined fashions. That match popular eyeglass and sunglasses styles and come in a variety of colors. In fact, today's sports eyewear is so much closer to an eyeglass style that most examples are generally referred to as sports glasses.
At Rx-Safety we carry a number of modern styles from well-regarded manufacturers, all available for different youth head sizes and ready to accept your custom prescription. Progear, Leader, and Rec Specs lead the pack in protective basketball glasses. If you need a pair, we recommend you check out the following: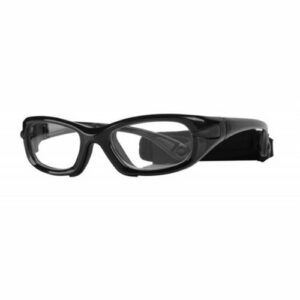 Excellent for basketball and nearly all types of school or club sports
Ideal protection and comfort
Lenses are made of an extremely tough polycarbonate
Features a rubber nosepad and anti-slip inserts on the temple bars.
Comes with a removable and adjustable neoprene band.
Available in small for ages 6 to 10 years (size 48-18-117), medium for ages 11 to 15 years (size 52-18-122), or large for ages 15 and up (size 55-19-122)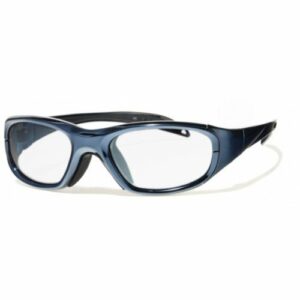 Rec Specs Maxx 20, 21, 30, or 31
Four unisex-shape models featuring different styles and colors
The first protective sports eyewear to receive the AOA Seal of Acceptance
Meets or exceeds ASTM F803 impact resistance standards for several sports
Patented (#6,890,073B) eye rim assembly allows for a wider range of prescription lens power
Sizing allows for youth and adult fitting
Bridge has soft inside padding for comfort and fit
Comes with semi-rigid case and double-slide adjustable strap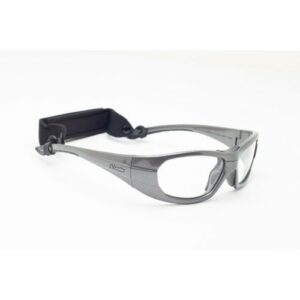 Leader Jam'n and T-Zone
Fit most youth to adult faces
Cool, comfortable styling designed for optimum performance
Unique 6-base design gives the illusion of an 8-base wraparound sports goggle
Patented SpringGuard lens retention system outperforms standard "V" safety bevels
Maximizes airflow to minimize fogging
Padded temples for improved grip
Adjustable, removable Velcro retention strap for a secure fit
Includes a soft case, Fog Buster anti-fog lens cleaner, hex wrench, owners manual, and warranty card