Prescription Sports Glasses for Kids
According to the National Eye Institute, eye injuries are the leading cause of blindness in children. How can they be prevented?
Protective Prescription Glasses for Sporty Kids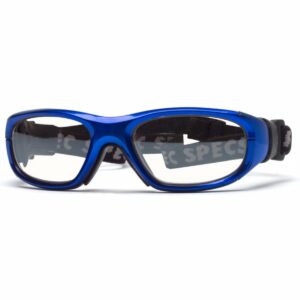 Vision is the most relied-upon sense that human beings have. We use our vision every day, all the time: to read, to drive, to walk, to run… and to play sports. Since most eye injuries in kids between the ages of 11 and 14 occur while playing sports[1], prescription sports glasses are an essential part of the safety equipment used by children who wear prescription glasses.
Eye injuries can range from radiation (around the eye) to puncture (of the eye itself) [2], the most severe of which can lead to permanent eye injury and blindness. Ironically, children who are wearing prescription street glasses (regular, non-safety prescription glasses) are at higher risk of receiving an eye injury during sports than children wearing no eyewear at all [1].
If you are wondering whether to get prescription sports glasses for your kid, here's what you should know:
Sports-related eye injuries can result in permanent vision loss [1].
Most eye injuries in kids between the ages of 11 and 14 occur while playing sports[1].
Kids who are wearing non-safety prescription glasses during sports are at a much greater risk of eye injury than kids wearing no eyewear at all [1].
Almost all sports-related eye injuries can be prevented [3].
Prescription sports glasses lenses should be made of polycarbonate.
An eye injury is treated at an emergency room every 13 minutes in the United States alone [1].
In children ages 14 and under, baseball is the leading cause of sport-related eye injury. In children and adults age 15 and over, basketball is the leading cause of sport-related eye injury.
Any protective eyewear used during sports should meet ASTM F803 standards for sports safety.
Eye injuries keep your kid from playing the sports s/he loves!
If you have a child participating in sports without protective eyewear, it's time to consider purchasing a pair. Kids by nature are generally less coordinated and more prone to injuries than adults, and eye injuries can be some of the most traumatic and devastating.
Prescription sports glasses for kids are available online at reasonable prices and with many different types of lenses including, single vision, progressive bifocals, polarized, tinted, clear… the list goes on. Getting prescripton sports glasses with polycarbonate lenses for your kid may be one of the best decisions you can make for him or her this sports season, especially if the time ever comes that a catastrophic injury is avoided because of his or her protective eyewear.
If you have any questions or comments about prescription sports goggles for kids or adults, leave a comment below. We'd love to hear from you. Thanks for reading, and have a safe and happy summer!
______________________
[1] National Eye Institute. Sports Related Eye Injuries: What You Need to Know and Tips for Prevention.
[2] Rodriguez, Jorge O., D.O.. Prevention and Treatment of Common Eye Injuries in Sports. American Family Physician, Apr. 1, 2003.
[3] Sports Eye Safety. Prevent Blindness America.