Prescription Safety Glasses With IR Flip Up
Everyone knows how dangerous some jobs are without the proper protection. Approximately 2.9 million workplace injuries or illnesses took place in 2016. Of those injuries, approximately 20,000 were eye injuries.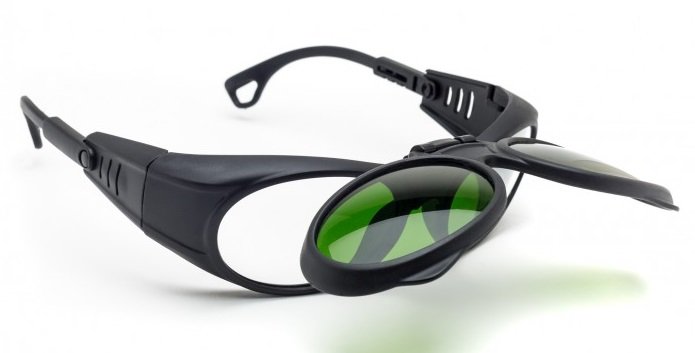 Even with the Occupational Safety and Health Administration (OSHA) dictating safety laws for work environments, there are still injuries occurring daily. If you work in one of the more dangerous industries, then superior protection including protective work gear is necessary. According to the American Optometric Association some industries or jobs that have a higher risk of eye damage include:
Welding
Construction
Manufacturing
Auto repair
Electrical work
Plumbing
Mining
Carpentry
Maintenance
Why are some industries so risky for the eyes? Most eye injuries are caused by one of the following occurrences:
Flying particles. This typically occurs in construction work, carpentry, welding, and so on.
Radiation laser damage. This can occur because of excessive sunlight exposure on the job but also from heat radiation such as in welding, auto repair, or electrical work.
Splashes of hazardous fluids. This may happen in an environment where chemicals, molten material, and other such hazardous materials are used.
As those in these industries know, the question is not if one of these occurrences will happen but when it will happen. So, having the best and most convenient protection is necessary to work in these fields.
Employers provide information about hazards and risks of dangerous jobs and in some cases must provide access to special equipment to use when operating machinery that could cause harm. However, those individuals who are self-employed or work for a relative are not subject to the mandates of OSHA. Furthermore, the protective gear that employers may provide may not necessarily suit the person who uses them. For this reason, it's important to select your own safety eyewear. When doing so, find one that:
Fits you well
Is something you like well enough to wear regularly
You can take home with you for better protection
Has a warranty or excellent reviews
Convenience is a key factor in people using safety eyewear or any protective gear. If the safety wear is too bulky or inconvenient, then people are not as likely to use it. Even when they know it's for their own protection, people still want convenience. According to the information gathered by the American Optometric Association, one of the main reasons people sustain eye injuries every year on the job is simply because they were not wearing their protective eyewear. One such job that requires two special types of protection is that of welding.
Welding Job & Dangers
Welders fuse together materials, usually metals, using different energy sources. Heat, an electric arc, laser, and more are used to fabricate materials together. This is a simplified definition of the complex procedure. If you are a welder or going into that field, then you are aware of the risks involved with this type of work. Not only are your eyes exposed to heat and sparks at times, but there is also a risk for dangerous radiation that results from the heated material. This means that the welder faces two dangers for the eyes:
1) Flying particles or sparks
2) Radiant light
When protecting against flying particles, a high-impact lens is necessary. You will need safety glasses that meet the ANSI Z87 standards. Any safety eyewear that has the ANSI Z87 approval means that it has gone through rigorous testing procedures to ensure that flying projectiles and particles cannot pierce through to damage the eye. Regular glasses do not have this durability or protection.
The other concern for welders, and possibly even more of a concern, is the ultraviolet (UV) light and infrared (IR) light exposure. A condition called arc eye can occur when working in welding environments. The ultraviolet light that is emitted from the welding process can cause flash burns. For this reason, welders also must have safety wear that protects the eyes from UV and IR rays. In order to get the best protection, it's recommended that welders wear safety eye glasses that have a protective shade of 1.5 – 14 depending on the type of welding they do. This type of protective shade is coated to filter out the radiant light.

What Welders Need to Protect Their Eyes
If you are like most welders, you don't want to take the time to switch from impact-resistant eyewear to UV protective wear. When you're in the midst of doing your task welding, stopping to take off one pair to put on the other slows down your job. The problem, however, is that without the UV protection, your eyes are at serious risk for burns. If you simply leave the UV protected safety wear on all the time, you can't see as well once the intense light from the fire subsides. It really is necessary to have two lenses. That's why prescription safety glasses with IR flip up are such a necessity for those in the welding industry.
The IR Flip Up Prescription Safety Glasses
These innovative glasses are the answer in convenience. By combining both technologies into one safety eyewear, welders are safer, more comfortable, and more likely to keep their eyewear on at all times. The bottom lens contains the high-impact, scratch-free, ultra-durable prescription glass. It meets all ANSI Z87 standards so you know you are safe from normal workplace accidents or flying particles. On top of that, the superior quality lens resists scratching and you have side shields for added protection. Your eyes are sealed off from the environment, which means they are safe.
Connected to the frame is another lens that contains the superior shade protection that all welders must have to protect from the radiant light exposure. These lenses can be flipped up and down depending on your need. So, as you work with arc light, you flip them down to block out all dangerous light. Then when you're done, you flip them up and you still have your regular prescription safety lens.
Added bonus features of these glasses are:
Adjustable temple length for the perfect fit.
Works with any prescription type, including bifocals.
Optional mirror color coatings.
Optional anti-fog permanent coating.
RX Safety is a leader in delivering high-quality prescription eyewear. They offer the innovative flip up IR safety glasses for a reasonable price. For a basic pair without added options, the cost is only $80. This is a great saving when compared to the price of purchasing two pairs.
When considering your options for protection as a welder, you cannot take a chance on your eyes. Most people will stick with a protective gear that is convenient and comfortable. That is why this RX safety model RX-17004 is a great choice for welders. If you already wear glasses, then you can simply fill out the form indicating your eye prescription. RX Safety will have these specially made with your prescription for no extra charge. There is no need to carry around additional glasses in your pocket or at your workbench. Use one pair and know that you are protected at all times. With a simple flip of the lens, you can transition between tasks with ease. Contact RX Safety today to find out how you can transfer your current eyewear prescription to the flip up IR protection glasses.