Prescription Safety Glasses from Walmart
Discount retailing giant Walmart has long been the go-to department store for affordable prices on all sorts of items: housewares, linens, auto parts, electronics, toys and video games, clothing, indoor and outdoor furniture, music, books, groceries, shoes, and more.
Walmart Prescription Safety Glasses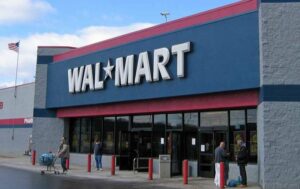 From its earliest days Walmart carried an off-the-rack selection of sunglasses and reading glasses, but later expanded into the prescription eyewear industry, offering a full range of vision products and services at their in-store Vision Centers.
Walmart Vision Centers offer eye exams, prescription eyeglasses, contact lenses, sunglasses, and a host of other eye-related products. Each Walmart Vision Center is staffed by independent licensed optometrists who perform eye exams on an appointment or walk-in basis. Vision Centers also stock a selection of several hundred frames for men, women, and children.
The availability of in-store prescription safety glasses, however, has always been extremely limited. Safety glasses are apparently considered too much of a "specialty product" to warrant in-store stocking; an understandable position, as retail shelf space is always at a premium and prescription glasses and sunglasses far outsell any format of safety eyewear.
With the advent of the internet and the rapid expansion of online shopping, Walmart partnered with third-party vendors and now offers a much greater selection of safety glasses that can be fitted with prescription lenses. Historically, Walmart has consistently beaten the pricing of their competitors on many items. So aren't the cheapest prices on prescription safety glasses available at Walmart's online store?
Not necessarily. The rapid expansion of online shopping also gave rise to many online retailers and wholesalers who specialize in one particular area of expertise and, with that focus as a business plan, offer better selection than Walmart or other chain stores. In the eyewear industry, some companies cut out the middleman by operating their own fully-stocked optical labs, enabling them to reduce costs and offer better prices on lenses of all types, options, and varieties.
For example, I recently compared the prices of identical Body Specs name-brand safety eyeglass frames. In many cases Walmart online frames (which are sold and distributed by third-party vendors such as OpticsPlanet.com or UnbeatableSale.com) sold for higher prices than the same item at Rx-Safety.com, which custom fits safety eyewear frames with lenses made in-house in a multitude of materials, coatings, and shapes. Some examples:
Body Specs BSG Black/Red – Walmart Price: $76.35, Rx Safety Price: $69.50
Body Specs BSG Silver Chrome – Walmart Price: $66.35, Rx Safety Price: $59.50
Body Specs BSG Purple Passion – Walmart Price: $66.35, Rx Safety Price: $59.50
Body Specs BS-CUPS Goggles – Walmart Price: $47.54, Rx Safety Price: $40.00
The lesson here? It pays to shop around. Just because leading discounters like Walmart offer competitive pricing both online and in stores doesn't mean they necessarily have the best price on all items. Better deals can often be had from online merchandisers with a dedicated-industry focus.