Prescription Safety Glasses For The Workplace: Do You Have A Safety Eyewear Program?
When working in an industry that requires safety glasses due to the extent of the work and the dangers that can occur, implementing a safety eyewear program is important in order to ensure that all workers will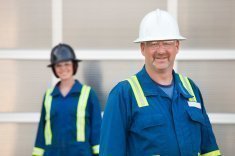 be safe at all times.
Thousands of workers are injured on a daily basis because of an eye injury, but a large number of those injuries could be prevented if workers wore the proper safety eyewear.
Many people may think it will be too expensive to implement a safety eyewear program, but that is not true. A safety eyewear program is rather inexpensive, and when you think about the amount of money it can save a business, it is definitely an investment that one should consider making.
When everyone is wearing the proper eyewear, there will be fewer concerns about eye injuries, lawsuits, and the amount of production that will be lost when people have to miss time from work.
A company's worker's compensation premiums are based on how many accidents have occurred on the premises. Since so many eye injuries occur in the workplace on a daily basis, without a safety eyewear program, companies are setting themselves up to pay some big money.
Safety eyewear programs will do what needs to be done when working in an industry like yours, protect everyone's eyes. If a business or organization offers vision plans, a safety eyewear program will be an excellent way to help all of your employees get the most out of the vision plan they have signed up for.
When employees are encouraged to get eye exams, they may find out they need to wear prescription glasses. Since the business already has a safety eyewear program, employees will be able to wear prescriptions safety glasses, and not worry about wearing prescription glasses and safety glasses at the same time.
Wearing both glasses can be quite uncomfortable, so the ability to wear one pair of glasses that will get the job done will be great for everyone. Wearing both glasses can also be hazardous, especially if someone is wearing their prescription glass lenses and the safety glasses.
What will happen if an object hit the safety glasses and caused the prescription eyeglass lenses to shatter or break completely? Glass would fall into the employee's eye and cause a serious eye injury. Wearing prescription safety glasses can prevent any uncomfortable feeling and it will get the job done without having to wear two pairs of glasses.
When a business has an effective and productive safety eyewear program, employees will not have to worry about the quality of the safety glasses. The glasses that are chosen will meet all the safety standards and use the best materials in order to ensure everyone who uses them will be able to see clearly.
When a safety eyewear program is implemented, everyone will be able to work harder and more efficiently because they will not be bothered by irritation or the concerns of injuries.
When workers know they will be wearing comfortable safety glasses, they will be more encouraged to wear them. When people actually want to wear the safety glasses, the risks of injuries in the workplace will be lowered.
This is definitely something that every workplace that involves working in hazardous conditions should implement. When thinking about the amount of money that can be saved by avoiding eye injuries, legal fees, lawsuits, etc., it will definitely be worth it.
The business will see a great turnaround in the amount of production and efficiency in the workers. As you have read, there are some outstanding benefits of introducing a safety eyewear program into the workplace. Are you ready to change things in your workplace? Contact us today to ask about safety glasses and how they can make a difference in a workplace.