Prescription Safety Glasses for Large Heads
Even though a lot of companies claim their safety glasses are "one size fits all," if you've got a large head you know it's just not always the case. Thankfully, RxSafety has your back with a wide selection of Wiley X safety glasses for large heads.
Wiley X is the leading provider of protective eyewear and ballistic products for the U.S. military, outdoor sports enthusiasts and the safety and shooting industries. Wiley X's are military-rated and used by American servicemen and women overseas, and best of all they're all ANSI Z87-approved for safety in the US.
Here are three great examples: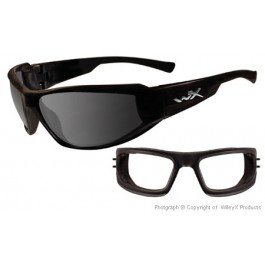 Seamless hinge for added durability
Top Down™ Ventilation for Fog Free Environment
Exceeds ANSI Z87.1-2003 High Velocity Protection
Multi-Layer Foam for Added Comfort and Protection
Largest Design in the Climate Control Series
Top Down™ Ventilation for Fog Free Environment
Multi-Layer Foam for Added Comfort and Protection
ANSI Z87.2 Safety Approved
Exceeds ANSI Z87.1-2003 High Velocity Standard
Removable Facial Cavity™ Seal for Added Function
FR Multi-Layer Foam for Added Comfort and Protection
Top Down™ Ventilation for Fog Free Environment