5 Prescription Safety Glasses You Can Wear Every Day
Whether you work in manufacturing, construction or a lab environment, safety glasses are an unavoidable part of life while on the job. Most people can simply throw on a standard pair of plastic eye shields and continue with their day but for people who wear glasses, this isn't really an option. While you can sometimes slip oversized clear or tinted safety eyewear over your normal frames, this is a stop-gap measure. You'll quickly need a more personalized solution.
When Contacts Aren't an Option
It is a simple truth that many of the work environments that require safety glasses are just no good for contacts. Welding, grinding, and almost any kind of carpentry, for instance, put irritating particles into the air that simultaneously dry out and get caught in your contacts, making them unbearable to wear. While it would be great if you could simply pop in a pair of tiny lenses and use normal safety glasses, anyone who asks you to wear contacts has clearly never worked in an industrial environment.
Ordering Custom Safety Glasses
With contacts off the table, your best bet is personal prescription safety glasses. Because these are specialty items made specifically to suit your prescription and safety needs, they must be custom ordered from one of the few sources that can provide them and doing so requires going through the hassle of getting your exact prescription from the optometrist and often measuring your head to make sure you're ordering the right size of frames. Of course, once you've gone through all this trouble, why not get a pair that's more than just protective? Without paying any more than you already planned to, you could have a pair of stylish frames to wear at work. With a sleek modern design that suits your personal style, you could even wear them every day as your normal pair with the added bonus of safety-grade eye protection all day long.
Everyday Style and Safety
Who says safety glasses have to clunky? If your job doesn't require maximum surface-area protection, there's no reason not to choose a pair of frames that look like perfectly normal glasses and wear them all the time. This not only saves you the hassle of switching out your glasses when it's time to work, you can also enjoy high-quality lenses and added safety during your personal activities. From DIY projects in the backyard to family rock climbing trips, there's no downside to wearing prescription safety glasses every day, on and off the job.
At Rx-Safety, we specialize in bringing you everything you could want from a pair of safety glasses from high-quality lens coatings to incredibly versatile frames. Among our selection are five different frames that could easily serve as both your regular pair of glasses and prescription safety glasses while on the job.
1) The RX-116: Classic Tech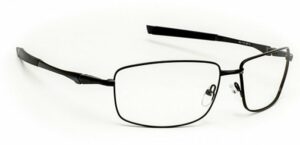 Most safety glasses are wide and thick with heavy black plastic frames. The lenses are either fully wrapped and secured by the frames or the undersides are left free for that classic safety-glasses look. While this may work on the job, they are also very distinctly work gear. For every-day safety glasses, what you need is something that meets the qualifications of both accessory and equipment. Wide prescription lenses made of indestructible plastic and a sleek frame that resembles other normal eyewear.
The RX-116 has all of these qualities. One of the most notable features are the thin metal frames around slightly squared-off lenses providing a wide range of peripheral vision without fully wrapping the head. The shape of the frames resembles heavier black motorcycle glasses with smooth earpieces with that curved wrap-around style but the thin black metal brings a distinct 'technician' look and feel to your appearance when wearing them. They also have one of the best features of metal frames often left out by their plastic counterparts: adjustable nose pieces, allowing you to decide exactly how and where the glasses sit on your nose. This is especially useful for anyone with a flat-bridge nose because it counters the usual slip-down problem of plastic bridged frames.
Bridge – 17mm
Frame Width – 127mm
Temple – 115mm
Lens Width – 58mm
Lens Height – 36mm
2) The RX-202 – Old School Tech
For older professionals and hipsters who want to look like them, the RX-202 has a wider bridge and that undeniably old-school appearance in the shape of the lens. The metal frames are offered in a single color of polished gunmetal gray with black plastic tips where the earpieces hook over.
For additional impact resistance in intense work situations, the frames are reinforced with a crossbar above the bridge and adjustable nose pieces. As added protection, while you're on the job, the RX-202 model also includes incredibly handy side-shields that clip onto the lenses and earpieces when opened and can be removed when you're not actively doing something dangerous without having to swap out for an entirely new pair of glasses.
Bridge – 18mm
Frame Width – 125mm
Temple – 140mm
Lens Width – 54mm
Lens Height – 38mm
3) The RX-100 – Aviators
For fans of aviator frames, and there are a lot of us out there, the RX-100 is the perfect dual-glasses solution. With lenses big enough to provide substantial protection, a reinforcing crossbar inherent in the design, and more classic style than you can shake a stick at, these metal frames take the cake. Each pair of RX-100s are made of a durable, non-corrosive stainless steel and you can order them in either black or an attractive autumn brown. The earpieces have spring hinges for a comfortable fit along with the adjustable nose pieces common to most metal frames. Finally, the aviators also come with the handy, removable, side shields for extra protection on the job while easily slipping into your pocket or case during less intensive activities.
Bridge – 19mm
Frame Width – 125mm
Temple – 140mm
Lens Width – 52mm
Lens Height – 46mm
4) The RX-080 – The Disguise
For a softer and somewhat more modern look, consider a pair of RX-080. These plastic frames look soft and very civilian coming in either a creamy charcoal or vivid orange, red, and black tortoise design.
Between these stylish plastic and the modestly sized rectangular lenses, no one will ever guess that you're wearing safety glasses. However, when it's time to get down to business, clip on the side shields and these feminine-friendly glasses turn into safety gear just as hardcore as any goggles or clunky face-mask style of eyewear.
Bridge – 18mm
Frame Width – 135mm
Temple – 145mm
Lens Width – 51mm
Lens Height – 33mm
5) The RX-201 – Classic Motorcycle
Our final everyday pair of frames are the RX-201. These sturdy nylon frames follow the classic design for motorcycle glasses with the cool wrap-around shape and rounded ear pieces. Unsurprisingly, the 201 model was built for both workplace safety and outdoor activity, including rubber nose pads that help them stay on even when things get a little sweaty. That said, the sleek and simple design makes these ideal for both work and play, adding a hint of coolness to every action without needing a motorcycle or welding torch in the picture to make them 'fit'. For options, you can choose classic black frames, a dark and moody red, or bright silver.
Bridge – 18mm
Frame Width – 145mm
Temple – 130mm
Lens Width – 59mm
Lens Height – 37mm
Rx-Safety is proud to supply you with all your safety eyewear needs including everything from custom shades for law enforcement to safety sports goggles for active children. With one of our excellent work-casual frame designs, you enjoy the same pair of glasses for both work and your everyday activities without worrying about the hassle of carrying spares and switching out. For more information about our glasses or to order a pair for yourself, please contact us today!