Prescription Safety Glasses And Anti-Reflective Coating
When you are working in any environment where there are multiple threats and risks of your eyes being injured, safety glasses will become your best friend. The regular eyeglasses you wear are not designed to have the full ability to resist a high amount of impact. The majority of safety glasses are made from a lightweight material. Although the material is lightweight, it has the strength to withstand impact.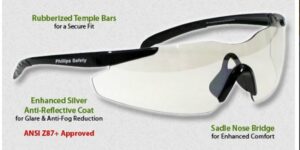 With safety glasses, you will be able to have lenses that are prescription or non-prescription. If you already have to wear prescription eyeglasses or contact lenses, you can make things easier on yourself by wearing prescription safety glasses because you will get the clear vision and the full protection you need.
Do not show up to work thinking your normal eyeglasses will be good enough to protect your eyes. It does not matter how big your regular eyeglasses are and how flexible and durable they are, you will not get the same protection and comfort you would by wearing prescription safety glasses. If the environment you are working in is a risky environment, you should wear your safety glasses at all time, regardless if you are indoors or outdoors.
Anti-Reflective Coating
We are sure you have seen various commercials and advertisements for eyeglasses and safety glasses, especially the eyeglasses that have an anti-reflective coating. Eyeglasses with anti-reflective coating have the ability to eliminate as much light reflections as possible on the eyeglass lenses. Some people know anti-reflective coating as AR coating or anti-glare coating.
These anti-reflective coating lenses will give you better vision because everything will be clear and it will improve the look for your eyeglasses or safety glasses. Here are some more benefits of glasses with anti-reflective coating.
A Reduction Of Light
When you compare glasses with anti-reflective coating lenses to glasses with the regular plastic lenses, you will find that the high-index lenses have the ability to reflect more light. There will be more light reflected from the lenses if there is a high index of refraction. This is why so many people who wear eyeglasses prefer to have anti-reflective coating on their high-index lenses.
Sharper Vision
When there is an anti-reflective coating on lenses, it significantly helps the vision of anyone who wears it. Your vision will be sharper, and this will be extremely beneficial when you are driving when it is dark.  Anti-reflective coating can also be added to your favorite pair of sunglasses, and this will help keep the rays of sunlight from getting into your eyes and distracting you while you are driving.
Additional Benefits Of AR Coating
Your vision will be automatically improved
Lenses with anti-reflective coating will sometimes have a tint
If your lenses have an anti-reflective coating, it will be easier for you to clean them
It can be difficult shopping for any type of eyewear, especially since there are so many options on the market. There are also additional features like anti-reflective coating that can make things complicated. Before you walk into an eyewear store or visit an online eyewear website, you should already have ideas in mind of the type of glasses you are going to need.
It is important that you know about the safety requirements regarding lenses. You should also make sure the optician you are visiting knows what the requirements are for safety glasses so you will have a safe product for the workplace.
You do not want to attempt to work with safety glasses that are uncomfortable and irritating because you will see your production levels drop because you will be so bothered by the safety glasses. Contact us today for more information on safety glasses.