Prescription Ray Ban Eyeglasses
Ray Ban eyeglasses are classic cool, built to last.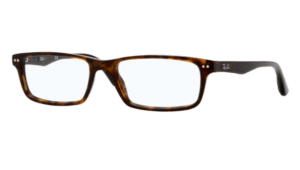 Prescription Eyeglasses with Ray Ban Style
Ray Bans are typically thought of as sunglasses, but they can be made into regular prescription eyeglasses as well. If you're looking for a new pair of glasses online, a new pair of Ray Ban eyeglasses is definitely worth considering.
Aside from the traditional "Blues Brothers" appeal of the New Wayfarers, Ray Ban's frames are stylish as eyeglasses because many fit into the increasingly popular "geek glasses" category or come out looking like a refined and elegant pair of glasses when made with clear lenses. All in
all, Ray Bans make a great pair of prescription eyeglasses.
If you're shopping for prescription Ray Ban eyeglasses, consider this:

Ray Bans are extremely popular and recognizable. People who see you wearing Ray Ban eyeglasses will know you've got style.
The fact that Ray Bans are typically thought of as sunglasses works to your advantage. When people see you wearing your Ray Ban eyeglasses, they'll see a new spin being put on a classic style. It'll be easy to appreciate your style when they realize how well this "new spin" works.
Prescription Ray Bans can be used as eyeglasses and sunglasses if you get them with Transitions lenses. They'll be clear indoors and gray or brown in the sun.
Ray Ban eyeglasses are suitable for most prescriptions.
Getting a pair of prescription Ray Ban eyeglasses online means total lens customization. You can get Transitions, polarization, mirror coatings, clear lenses with anti-reflective coating… the possibilities are endless.
If you've never had a pair of Ray Bans before, this is especially important to know when considering them for eyeglasses: they are extremely comfortable and built to last. Their quality lies in their function and their form.
Ray Ban eyeglasses are unique, stylish, and a good choice for someone looking to get everyday glasses that will last. Ray Bans aren't just popular because of the countless movies, images, and commercials they've been in; they're cleverly designed, well-made, and rugged.
If you are still unsure whether Ray Ban eyeglasses are right for you, take some time to ask your friends if any of them wear Ray Bans. One of them probably does. Try the frame on, give it a whirl in the sun, and take the time to feel the sturdiness of their construction. Notice how they sit on your nose. Pay attention to their feel behind your ears. We've fallen in love with them, and we expect so will you.
If you have any questions about Ray Ban eyeglasses or how to order them, leave a comment below or give us a call. We'd love to hear from you. Thanks for reading, and enjoy your new glasses!