Prescription Glasses Vs. the Ocean
Saltwater is the bane of many metals and useful things. How will your prescription glasses fare?
Prescription Glasses Vs. the Ocean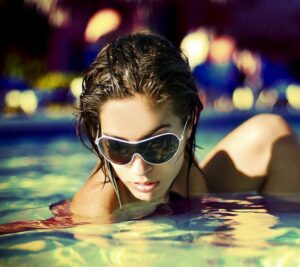 The ocean destroys or devours a lot of prescription glasses. Many things rust or degrade when regularly exposed to the salty air near the beach or the spray of constant use on an ocean boat. Many fishermen and women know all too well how short-lived even the highest quality piece of electronic or fishing equipment can be when used for saltwater fishing.
Ions in salt water accelerate the decomposition of many materials including most metals and many coatings and varnishes. Prescription glasses may fare no better than a piece of simple iron if not treated well or purchased with the wrong sorts of coatings.
If you're in the market for prescription glasses that you plan on using out on the salt water, here's what you need to know:
Anti-reflective coating doesn't stand much of a chance around saltwater. The coating will begin to come off in streaks, leaving the lenses looking scratched and worn after only a few months of use. AR coating should be avoided where saltwater is concerned.
Mirror coatings aren't much better against saltwater than AR coating is, but they do stand up a little better, The nice thing about mirror coating is that it removes some of the reflected light coming off of the water and is useful for long days on the sea. The coating also will not affect your vision as AR coating does when the salt spray and air starts to wear it away, but the glasses will get noticeably worn.
Polarized lenses are a great decision when you're around water. They block a lot of scattered and reflected light (such as that reflecting off of the surface of the water), and they help you see into the water so long as it's not murky.
Cleaning your glasses with clean, fresh water in a sink after every exposure on a boat or on the shore will greatly extend their life, just as hosing down your fishing reel helps prevent it from corrosion. Simply rinse them well under water and gently pat dry (don't rub!) with a terry cloth or microfiber towel. Store them indoors, preferably in a case.
Metal frames won't last as long as plastic frames. The metal will corrode, generally starting with the thin metal band that holds the nosepiece to the frame. Plastic frames are best on the water.
Using a wraparound frame that holds fast to your face is a good idea. It's windy out there.
Ocean fishing is arguably the best fishing there is. The fish are bigger, the water deeper, the adventure more exciting. Even if you aren't fishing, you can probably appreciate the feeling of being on a boat amidst the vast power of the ocean.
The ocean's vast power definitely extends to its powers of corrosion. There is nothing that will tarnish and destroy delicate and expensive items as quickly and thoroughly as repeated exposure to saltwater spray and air. Avoiding the speedy deterioration of your glasses involves careful care and good maintenance. Getting a good pair of glasses to last out on the water is simple, you just need to be vigilant with getting the salt off, preferably as often as possible.
If your glasses do wear out before their time, we often offer discounts to returning customers… especially when they've had a pair of glasses go bad sooner than we'd like. As mentioned earlier, salt water has power like no other when it comes to wearing things down, but we've seen a lot of success with our customers if they perform the simple maintenance listed above.
If you have any questions about saltwater and your eyewear, leave a comment below or contact our customer service department. We will be glad to answer any questions you have.
Thanks for reading, and have fun out there!