Prescription Glasses And The Myths Of Online Eyewear
Many people prefer buying many things online because they want to avoid the crowds and the traffic. You can even buy things online now and pick them up at your nearest store. Things have changed significantly and the online world has made things easy for many people.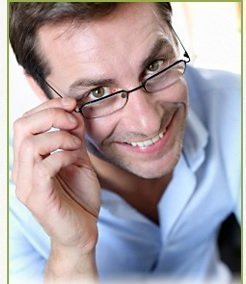 However, there are many things that some people will stay away from when it comes to online shopping. One of those things is eyewear. It may be easy to choose the style you want online, but many people are worried about making mistakes when it comes to choosing the right fit and the prescription.
There are also plenty of myths and misconceptions that make people feel the way they do about choosing eyewear online. We want to prove those people wrong.
I Can't Save Money By Shopping Online
This one has been heard many times. Some people just do not believe you can save more money by shopping online. The comparison in buying glasses online and buying them in a store is not even fair. There is no comparison. Would you rather spend hundreds of dollars on the same glasses that you can get for less than $50 online? It should really be an easy decision.
It Is Hard To Buy Glasses Online Because I Do Not Have Anyone Helping Me
For many people, this can be a problem. However, there are many eyewear sites that have online consultants waiting to assist you. You will also be able to find plenty of advice in the help sections of the websites. There are many websites what will give you the ability to upload a photo and place different glasses on your face. You will be able to see how you look with the glasses on your face, so you should not have any surprises once you receive them.
With the ability to use a virtual stylist, you can spend hours looking for the perfect look for you. You do not have to worry about being rushed or persuaded into taking a pair of glasses that you really do not want. If you want a pair of glasses that are just right for you, the internet should be your go-to source. You will be able to afford more than one pair of glasses when you purchase them online.
If I Buy Glasses Online, I Will Have To Settle For A Cheap Pair
When you shop for glasses online, you will have a variety of choices, including Nike prescription glasses. It is very easy to find frames that will look exactly like or better than the ones you will see in the stores. However, these glasses will be more affordable than the ones you will get in the store. Would you rather settle for a select few of glasses in the store or would you rather have a plethora of choices from various online websites.
It should be very easy to locate a bad deal on a pair of eyeglasses. You will find plenty of websites that will offer glasses at a price under than $50. If you see glasses that are less than that, such as $10, you should probably look the other way. However, if you do decide to purchase them, you should not expect to receive a high-quality product.
We understand that will all the talk around you, you may be hesitant to shop for glasses online. We want to help you make the best decision for yourself. If you are looking for high-quality glasses at an affordable price, you should certainly check out the plethora of options online.
If you are looking for prescription glasses, contact us today.