Prescription Glasses to Make You Look Younger
If you hate wearing contact lenses, you might feel like you are stuck wearing dowdy-looking eyeglasses for the rest of your life. A lot has changed in the eyewear industry in recent years, however, and you might be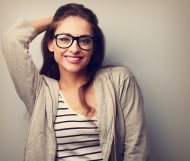 surprised by just how stylish some of the styles that are out there really are. If you feel that your glasses make you look old, you should know that there are plenty of options of prescription glasses to make you look younger. These are a few tips for picking out a pair that will help you look your best — and youngest.
Make Sure They Fit Properly
First and foremost, regardless of the style or brand that you choose, you should make sure that your eyeglasses fit you properly. Glasses that are too tight on your face, for example, can tug at the skin on your cheeks and around your eyes. Not only is this uncomfortable, but this can call extra attention to any wrinkles that you might have. Eyeglasses that are too big, on the other hand, can make you look awkward and less put together.
Choose a Modern Style
There are so many styles of eyeglasses out there nowadays that you shouldn't have a tough time finding a pair that look great on you. Some of the more modern styles include aviator, hipster, wayfarer and sporty. Consider looking at different styles — you might find that one of the newer and more modern styles is the perfect fit for your new look.
Pick a Style That Complements Your Face
Along with looking for a modern style, you will also probably want to look for a style that complements your face shape. This can make you look younger, thinner and overall more attractive.
For example, if you have a round face, you'll want to look for eyeglasses that are wide and not too tall. You'll also want to choose a pair that sits higher on your nose so that it does not rest on your cheeks, and you should look for glasses that have strong details to help add definition to your face.
It's worth your while to do your research about face shapes and to check out different styles. Then, you can find one that is more flattering for your face, which can help you look younger.
Shop the Big Brands
A lot of people think that they cannot afford the name brand eyeglasses that are on the market, so they stick with cheaper pairs from no-name brands. However, this is not necessary — if you shop at Rx-Safety, you can find discount prices on glasses from all of the best designers.
There are a few reasons to consider shopping for eyeglasses from a top designer. First of all, you should know that these designers put a lot of effort into designing newer, more modern and more attractive styles. This means that you can end up with a trendier — and younger-looking — style by shopping from a top designer.
Plus, the big brands also generally use higher-quality materials. This means that your eyeglasses can last for much longer and can be much more durable. Not only will your new pair help you look your best, but it can also last you for a long time. This means that buying name brand eyeglasses now can actually save you money later.
If you choose the right pair of eyeglasses, you can look younger and a lot more modern. If you're looking for the right pair for you, contact us at Rx-Safety You might be surprised by the trendy, modern looks that we offer for reasonable pricing