Prescription Glasses for Baseball Catchers: What Should You Know?
Summer is about to be in full effect and that means people will be flocking to baseball stadiums all across the world. Baseball is a favorite of many during the summer and even those who are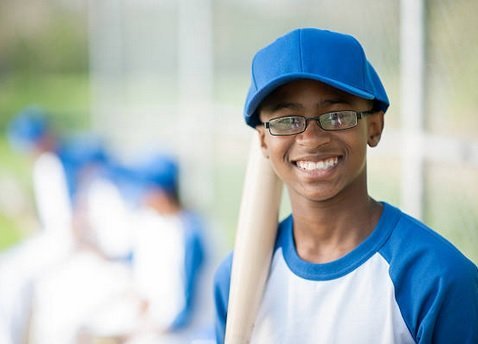 not fans of baseball have probably watched a few games just to discover what baseball is all about. Baseball is a sport that can be played even if you do not have a perfect vision. There are many former and current baseball players who needed eyeglasses.
Given what it takes to throw an amazing pitch, we are not surprised that some baseball players, especially catchers and pitchers need to wear prescription glasses. If you do not know the ball is coming, how are you supposed to actually catch it and get the runner out at first base?
If you are one of the many near-sighted individuals playing sports, you have likely already been prescribed a prescription for eyeglasses or contact lenses. You will either wear these glasses some of the time or all of the time. Wearing the glasses will generally be a requirement when you need to have a clear sight, and this can be when you are driving or when you are playing a sport like baseball. Many baseball players wear their eyeglasses or contact lenses when they are playing a game.
In recent years, the number of baseball players who are wearing eyeglasses on the field has significantly increased. Players are allowed to wear eyeglasses on the field, and this has given them the protection they need from injuries. However, there are some key pieces of advice that you can follow to ensure the possibility of suffering an injury behind the plate is minimized.
The Importance Of Good Vision
Good vision is an essential asset for baseball catchers at any level. The time a baseball catcher has to react to a pitch or a throw to home is very short. Hitters have a quick second to make a decision on whether they will swing or not swing. This is why having a good vision is so critically important.

Prescription Glasses And Baseball
Prescription glasses are critical for the baseball catchers who are near-sighted. It is either the eyeglasses or wearing contact lenses. Thankfully, there are many frames that will allow you to wear the eyeglasses safely on the field. When you wear the right prescription glasses on the field, this means you will have enough security in your glasses that they will not fall while you are catching. If a pitch or a throw does cause you to take a tumble, the glasses should be safe and secure enough that they will not damage your eyes.
Generally, you can choose a frame that can have a strap attached to it so that the frame remains attached to your face. With the right strap on your eyeglasses, the chance of the glasses falling from your face will be minimized. You can also make the choice to choose a pair of professional goggles that are designed for athletes.
Prescription glasses and prescription goggles are very easy and safe to use, plus they can be used to reduce any eye injuries while you are playing in a game. It is also possible for you to use a prescription face mask when it is your turn to bat. However, wearing a prescription face mask with a batting helmet can come with the risk of injury so it is important that you have the right materials and the right style of a face mask and a batting helmet.
Choosing The Right Type Of Prescription Glasses
Thousands of baseball eye injuries happen every year and not every baseball injury is reported. Generally, baseball injuries can be sustained from a batter, runner, or catcher being hit directly in the eye. Thankfully, many of those injuries can be prevented with the right type of glasses. Prescription glasses for baseball catchers will not only provide the proper protection from eye injuries, but they can also have your required prescription in them. When it is time for you to choose the right type of glasses for baseball, you should make sure you consider the following:
The Type Of Lenses
Polycarbonate lenses will generally be the recommendation that is given to you because it meets the ASTM standards. However, there may be some issues regarding quality when it comes to polycarbonate lenses. If you choose polycarbonate lenses that are not of high-quality, you may see plenty of distortion in your lenses. If you make the decision to use polycarbonate lenses, we recommend that you choose the lenses that are of better quality.
Durability Is Important
You are going to need prescription glasses that will be strong enough to withstand a ball. This is why high-quality polycarbonate lenses are recommended. When wearing prescription baseball glasses on the field, you can also choose a shield that is also made of polycarbonate. It is important that you remember some shields do not meet safety standards; you should make sure the shields you are considering will meet the safety rating established by the ASTM.

Protection Against Light
You are going to need the best type of protection from ultraviolet radiation when you are playing baseball. When you choose polycarbonate lenses that are made of high-quality, you should have the UV protection you are going to need. During the night games, you will want your lens to be clear enough so that you can have the best possible vision. An anti-reflective coating is a good option if you are going to need something to protect your eyes from the lights in the stadium.
If you are concerned with your vision on the baseball field, now is the right time to re-evaluate your current prescription glasses. If you need to improve your vision on the baseball field, it may start with changing your type of prescription glasses.
Do not hesitate to contact Rx-Safety for more information on prescription glasses, face shields, coatings, and anything else concerning your vision.