Nike Prescription Sunglasses vs. Contact Lenses for Golf
Playing any sport requires precise hand eye coordination, especially, with golfing. In the not too distant past (a couple decades ago), golfers, like Tom Kite, wore their prescription glasses on the course without a viable alternative. Today, contact lenses have improved to fit better and feel more comfortable, yet prescription eyewear has also improved greatly. So what's the best choice for golfers: Nike prescription sunglasses or contact lenses?
How Many Golfers Need Correctional Lenses?
To find the number of golfers (in the U.S.) who need correctional lenses, let's take the percentage of people in the U.S. who wear prescription eyeglasses and then use that percentage with the total amount of golfers in the U.S.
Most of these nearly 16 million golfers in the U.S. have slight correctional needs, and most are 40 years old or older – vision deteriorates faster as we get older. Only around 12 percent of people needing correctional lenses wear contacts, equaling around 2 million golfers by the percentage; yet, people tend to choose contact lenses at a higher percentage when golfing. Is this the best choice though?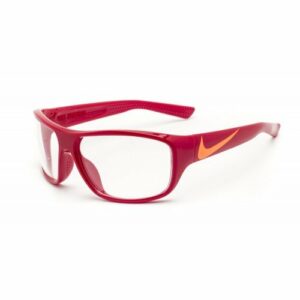 Vision and Golfing
Golfers depend on their vision to track their ball flight, gauge the depth of distances, and keeping their eye on the ball through their swings. Having vision problems can really hamper a golfer's ability to hit the ball solidly and play to their potential. Also, playing a round of golf takes hours of walking up and down hills, swinging at the ball hard, and stooping down to read putts and manage the ball.
Another important aspect is that golf is played outside in the elements and, most importantly, in the sun. Many golfers wear hats to shield the sun, yet wearing sunglasses is the main solution for golfers to block the glare from the sun and remain comfortable throughout their rounds. All of these factors involved in the game of golf, favor the solution of wearing prescription sunglasses.
Benefits of Nike Prescription Sunglasses vs. Contact Lenses
The main benefit of wearing prescription sunglasses vs. contact lenses is: they're more efficient in blocking harmful UV rays from the sun and deflecting the glare. Contact lenses now come tinted, yet what if the sun goes in and out and the player wants to take their glasses off? Golfers can remove their prescription sunglasses during their round if, suddenly, the clouds come in and it gets dark; also, golfers can remove their prescription sunglasses if not needed for short or long distances, depending on their correctional needs.
Nike prescription sunglasses are part of the Nike Vision Eyewear line, and are the best choice because they're designed, specifically, for sports like golf. Also, Nike prescription sunglasses have more lens' options than contacts do, so even if the clouds darken the sky, golfers can keep their prescription sunglasses on and see just fine.
Another good point is: wearing Nike prescription sunglasses protects golfers from more than just the sun, it also protects them from: sand, water, and the elements of the course and weather. Contact lenses are just not able to offer this protection, and if they do get dirty they're difficult to take out and clean or replace – compared to prescription sunglasses.
Summary
With over half of the golfers in the U.S. needing correctional lenses, choosing between prescription sunglasses and contact lenses is an important choice for many. The nature of golf requires golfers to have the best vision possible, and the benefits of using prescription sunglasses outweigh those of wearing contact lenses, especially, when it comes to Nike prescription sunglasses.
Nike prescription sunglasses are designed with golfers in mind; they're comfortable, durable, well-fitting, and manufactured with quality materials and innovative technology – and look great too, by the way.
Golfers with even a slight need for correctional lenses, should consider owning a great pair of Nike prescription sunglasses, so they can look, feel, and play good out on the links. To learn more about our full selection of Nike Vision's prescription sunglasses, please contact us here at MyEyewear2go.