Nike Prescription Sunglasses for Those who Drive Often
No matter the season, people who drive often understand the importance of a good pair of sunglasses. Whether you are a semi driver, a parent who totes kids around daily, or a pizza delivery person, you know that without sunglasses, long stretches of driving in the sun can be absolutely torturous. On top of that, the act of driving without sunglasses can actually be dangerous in a variety of ways.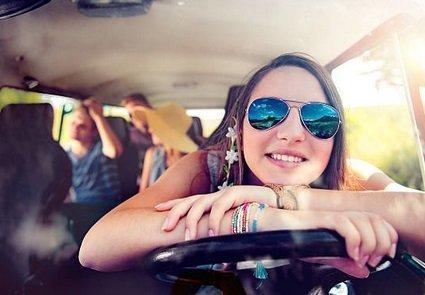 For this reason, it is imperative that those who find themselves on the road in the afternoon sun invest in a pair (or two) of sunglasses. While the dollar store sunglasses might seem like a fine solution, they are not always the best choice. Cheap sunglasses are of lower quality and generally do not offer the safe level of comfort and protection that a nicer pair of sunglasses does.
Some of the best sunglasses on the market for those who do daily driving in the bright sunlight are Nike sunglasses. This brand offers a collection of benefits that are sure to keep the wearer as comfortable and happy as possible even on the brightest of days.
Below are 6 reasons frequent drivers love Nike sunglasses.
#1: Excellent Protection
Superior quality means superior protection from the sun, and Nike sunglasses are made with the very best materials available. This ensures they are doing their job well by providing your eyes with uncompromised protection from the sun's harmful rays.
Considering the possibility of sunburn, cataracts, and other eye damage that may be caused by the sun, it is always a comfort to know you are doing your best to protect your vision using high-quality sunglasses, especially if you frequently drive in the bright afternoons or in the direction of the rising or setting sun.
#2: Safety First
Besides protecting your eyes,
good-quality sunglasses also provide improved safety to you and others on the road. By ensuring the proper amount of tint is used and the proper fit is accomplished, Nike sunglasses help drivers see as clearly as possible no matter how much sun may be pouring into their windows, which we can all agree is an important feature in sunglasses.
Obviously, this keeps everyone a bit safer by reducing the number of accidents on the road. This alone makes Nike sunglasses worth the investment.
#3: Unbeatable Comfort
That proper fit we mentioned earlier? It does more than enhance a driver's safety; it also helps keep the wearer of the glasses comfortable by eliminating the need to constantly adjust the glasses.
When your sunglasses rest comfortably and snugly in the correct position without slipping down your nose, the irritability so often caused by wearing sunglasses disappears, and you are left feeling comfortable and ready to hit the road. Nike offers this comfort through the use of high-quality materials and incredible craftsmanship you won't find in just any sunglasses.
#4: Stylish Look
Nike does a wonderful job of offering their customers a wide variety of frames to choose from. Not only does this ensure each and every person finds a pair of glasses that are comfortable for them, it also helps them show their personal style choices through their eyewear.
Considering that those who drive frequently will also be wearing their sunglasses frequently, this is a major bonus, and one that mustn't be overlooked. After all, feeling confident in oneself is incredibly important for anyone who wishes to be successful, and confidence often begins with style.
#5: Multiple Lens Options
The huge assortment of frames offered by Nike is just the beginning. You see, Nike sunglasses are available with a variety of different lens colors. Not only does this help to enhance a person's look, it can also help improve their vision. This is due to the fact that certain colors of lenses work best in certain conditions.
For instance, grey lenses are best for general use, while yellow lenses are ideal for driving at dusk or in foggy conditions. By doing your homework, you will be able to order two or three pairs of glasses with lenses that suit your unique needs.
#6: Prescription Models Available
If you must wear prescription eyeglasses to see, you may find it frustrating to put in contacts every time you need to wear sunglasses. Besides that, a person doesn't always necessarily know when sun protection might be needed, leaving them in a bad position should they need sunglasses when their contacts are still at home.
Fortunately, Nike offers prescription sunglasses for those who suffer from poor eyesight but still want the option to protect their eyes whenever and wherever they please. These glasses are of the same quality as other Nike sunglasses, but include a set of prescription lenses that are tinted for protection from the sun. If you wear eyeglasses on a daily basis, you have to admit that these would be a fabulous addition to your wardrobe.
No matter who you are, there are many reasons to invest in a pair of Nike sunglasses. However, those who drive regularly simply must give these fashionable, functional glasses a try. They are an item you will use on a daily basis, and a purchase you most certainly won't regret.
So what are you waiting for? Here at Rx-Safety, we offer an enormous selection of Nike sunglasses in both prescription and non-prescription from. With so many frame and lens options to choose from, you are sure to find the sunglasses of your dreams. However, if you are having trouble, feel free to contact us so a friendly associate can help you find something that is right for you.