Magnifier Safety Glasses
Need to read while wearing safety glasses?
Magnifying Safety Glasses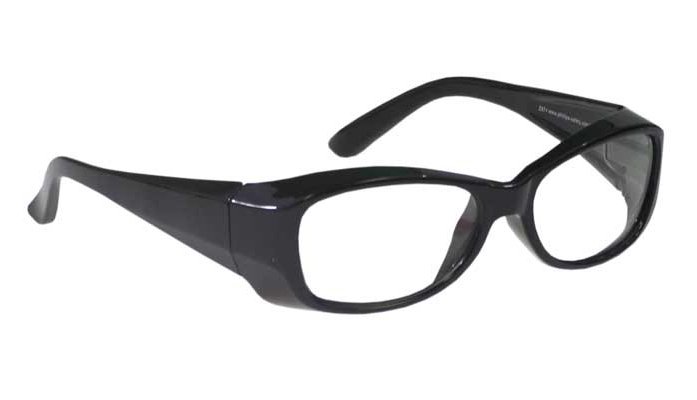 Magnifier safety glasses are safety reading glasses; they are safety glasses with stock reading prescriptions in them, just like the ones you find in reading glasses sold over the counter at the drug store.
Safety reading glasses come in handy in a variety of applications, from those working in industrial settings who need to work on a computer or write for long durations while wearing safety glasses, to those doing up-close repairs or other work on construction sites or in other hazardous areas. If you suffer from presbyopia associated with age (older people generally need reading glasses) or if you are just hyperopic (farsighted), and if you need to wear safety glasses, our magnifier safety glasses are a perfect solution to working safely and with good vision.
If you wear reading glasses and need to wear safety glasses for work, here's what's great about our safety reading glasses:
Safety reading glasses come in stock powers identical to those found in drug stores in standard stock reading glasses.
Magnifier safety glasses improve your vision while providing ANSI Z87-approved (OSHA approved) safety for your eyes.
Safety reading glasses are commonly used by people who need to read for longer than a few minutes while in an area where safety glasses are required or just a good idea.
Our magnifier safety glasses have impact-resistant polycarbonate lenses for the maximum protection you can get in a pair of reading glasses.
Our safety reading glasses come in a variety of frame styles, including popular wraparound styles and traditional flat frame styles.
Many hobbyists working with power tools and other dangerous machinery while working on fine projects will benefit immensely from using magnifier safety glasses
If you need to wear reading glasses to read and have a career or hobby that puts your eyes in danger, magnifier safety glasses are a good choice for you.
Magnifier safety glasses are ANSI-approved safety glasses that have reading glasses prescriptions in them, and they are perfect for anybody who's presbyopic and needs to wear glasses to read. Don't get caught on the site with reading glasses on! And don't get caught out there without glasses when you need to read! Our magnifier safety glasses are safe, affordable, and convenient.
If you have any questions about safety reading glasses, just give us a call or leave us a comment below. Thanks for reading!