10 Important Considerations When Finding the Best Glass Eyeglass Lenses Online
Buying glasses online can be unusual, especially if you haven't done it before. It's certainly a different experience from walking into a store and trying on your favorite frames your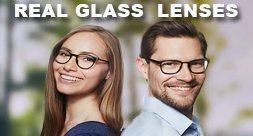 self. At the same time, it can be both exhilarating, and significantly more advantageous than the traditional glass-buying experience. That's because you have more customization options, and can find exactly what you need.
To get to that point, of course, you have to get the process right. The last thing you want is order a pair of glasses, only to receive and be unable to return a pair that has nothing to do with your initial needs. To avoid that from happening, here are 10 important considerations and questions to answer when looking for the best possible eyeglass lenses online.
1) Do You Know the Exact Lenses You Need?
First things first: don't even start to shop online until you know exactly what types of lenses you need. That includes a number of individual factors:
At the time of going online, you should have at least a preliminary idea of what you're looking for. That, in turn, leads us to the second consideration:
2) Have You Done Your Research?
When it comes to prescription eyewear, the last thing you want to do is make a mistake. Get the wrong prescription, and you will suffer from headaches. Get the wrong style, and you may never even wear your glasses. Get the wrong lens material, and you will regret it down the road.
These variables, as well as the ones mentioned above, means you have to do thorough research in the process. Put simply, buying eyeglass lenses online requires more independence than shopping in a store would. You don't necessary get the hand holding that associates in brick and mortar stores can offer. Doing your research is vital to get the right pair.
3) Have You Talked to Your Eye Doctor?
Another priority when shopping for eyeglass lenses online is a chat with your eye doctor. You won't just need your prescription, but might also benefit from additional add-ons (such as bifocal lenses) that you can add to any lens you buy.
Chatting with your eye doctor also ensures that you actually get the lens materials you need. In many ways, glass lenses outpace plastic alternatives in terms of benefit. But is that also true for your individual situation? A medical professional who has examined your eyes and knows your needs can probably provide the answer.
4) What Are Your Customization Needs?
Once you've got the basics down, it's time get into customization possibilities. More specifically, what exactly are you looking for beyond a great pair of glasses?
Here, the chat you had with your eye doctor and the research you've conducted results in a tangible takeaway. You might decide that you need bifocals, or that transition lenses are your best bet. Make definite decisions about your customization needs where at all possible to find and order the exact lenses you're looking for.
5) What's the Core Function of the Glasses?
In other words, what is the context in which you will wear your glasses most? Morning and evening commutes may require very different specifications than glasses worn in a factory or while performing athletic abilities. Dusty environments, for instance, call for the scratch resistance of real glass lenses.
We cannot emphasize this enough: the core function of your glasses should be a major influence on your decision. From finding the right lens material to optimizing your frame around it, you have to make sure that the situations in which you wear them actually matches their abilities and functionality.
6) How Reputable is the Online Store?
Consider the first five considerations as focused on your glasses. Now, it's time to figure out exactly where you should actually order your lenses from. That, in turn, invites a natural question: can you trust the online store from which you want to order?
A number of ways can help you establish that credibility. Look for time in business, Better Business Bureau rating, and company history. A long and successful history of selling eyewear online is a major point in favor of any website from which you consider buying.
7) What do Other Customers Say?
Don't underestimate customer reviews as part of your store evaluation process. Any company can sing their own praises and detail just why you should buy from them. Hearing those same selling points repeated by actual customers, however, can seal the deal.
Customer reviews matter on both the micro and macro level. You can use them to evaluate the overall nature and credibility of the store. But you can also read the review for individual frames and lenses you're considering in order to make your final decision.
8) How Fast Can You Get Your Glasses?
The next consideration is one related to convenience. When you place the order, just how long will it take to arrive? Chances are you are ordering glasses for a very specific reason. You might have gotten a new prescription, or broken your old pair. Either way, getting glasses fast is key.
Here, it's important to understand just what actually goes into the online buying process. Customizing lenses may result in a delay, so you should always be aware of the variables that can influence delivery time. The general rule, though, still holds: the faster you can get your glasses, the better.
9) What are Some Pricing Considerations?
Naturally, you will probably want to know about the actual pricing of an online glass purchase. The last thing you'd want to do is go through all of the above steps, only to discover hidden fees during or after the checkout process. Chances are you have a budget, and need to stick to it no matter what exact glasses you order.
In good news, real glass eyeglass lenses tend to be less expensive than their plastic counterparts. Still, shipping as well as customization options may result in additional costs. Do your research first so that by the time you're ready for the purchase, you already know what to expect.
10) What About Return Policies?
Finally, an absolutely crucial element of buying your glass lenses online: you need to know about the return policy. Unlike you would in a store, you cannot simply try on a pair of glasses and evaluate its prescription as well as fit before you buy it. So what happens when the new pair arrives, and something is wrong?
Ideally, a credible merchant will allow for returns. But you need to know whether that will actually be the case in your situation. Learn about return policies to ensure yourself against getting a pair of glasses that is uncomfortable or unusable in the future.
Ask these questions, and your chances of finding a great option when it comes to your glass lenses increase drastically. And of course, it all comes down to the right online merchant. That's why we'd love to chat with you.
For years Rx-Safety has been a core destination for anyone looking for functional or stylish glasses. Especially when you're looking for glass lenses, we can help you get to the right spot. Contact us for more information about our options, as well as any questions about return policies and more.