How to Wear Makeup with Glasses
Glasses are not only a necessity for many, but they are also a fashion accessory just like a bold necklace or fabulous bag. Remember when picking a frame, choose one that not only looks good for your face but one that defines you and your personality!
No matter what frame you pick, please, please, please tame your brow; wax them, pluck them or thread them, it does not matter.  You want to draw attention to your glasses not your brows.
Depending on your skin type, wear a moisturizer that is right for you especially where your glasses sit on your nose.  The last thing you want to do is take those glasses off and draw attention to the two red marks that are on your face.
When applying your foundation, be sure to blot off the excess foundation on your nose.  You don't want to remove your glasses and have the foundation stay on your glasses.  Your best bet is to apply a finishing powder over your foundation to help reduce the chance of leaving that gross foundation on your glasses.
Use that lash curler, not only does it make your lashes have body but it also helps your lashes from brushing against your lenses to your glasses.
When applying your eye makeup, remember in this case, less is best.  Let your glasses make your eyes pop.  Use neutral tones on your eyes especially for during the day.  Use waterproof mascara and a simple eyeliner to accent your eyes.  But, don't go too crazy with the mascara you do not want to leave mascara on your lenses every time you blink.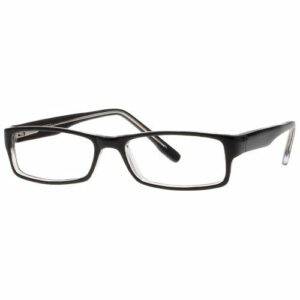 Draw attention to the lower part of your face by choosing a bold lip color.  Have fun with it and pull out a shade from your frame. For example, my favorite is from our women's prescription collection of glasses Genius G505 frame in black.  It's lightweight, flexible and a classic in my book.  With a frame like this you can either go with a nude sheer on the lips or pop it with a bright coral for a completely different look.
If you have to wear glasses every day, have fun with it and experiment day and night looks that work for you, but remember…less is best to make your glasses pop and go bold on your lips.
Stay fabulous!
Jessica xo