How to Tell If My Glasses are Polarized
Not sure if you're using polarized sunglasses? Here are some ways to check.
"Are My Sunglasses Polarized?"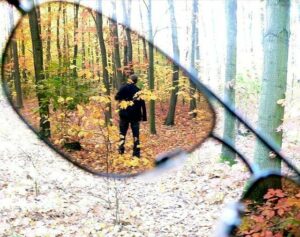 Polarized sunglasses are extremely useful, increasing your visual acuity, cutting down on glare and haze, and reducing reflected light. But how do you know your sunglasses are polarized to begin with?
Polarized sunglasses and prescription polarized sunglasses will have a few distinct characteristics that make them different from ordinary glasses. One easy way to check if they're polarized is to tilt your head to the left and right while looking at a computer monitor. If the glasses are polarized, the monitor should appear to get brighter and darker as you tilt your head left and right.
Here are a few ways you can check if your glasses are polarized:
Look at a computer monitor while wearing them. Does the monitor's brightness seem to go up and down as you tilt your head left and right? If so, you're wearing polarized sunglasses.
Polarized sunglasses reduce the reflected light off of water. If you're near water, your sunglasses should help you see better into the water on a sunny day.
If you're wearing polarized sunglasses while driving on a sunny day, you should notice that distracting reflected light off of cars and asphalt is reduced.
Polarized sunglasses will also cut down on haze; if your glasses are polarized, you should have a noticeable improvement in your visual acuity on a hazy day while wearing them.
Polarized sunglasses are generally darker than standard tinted sunglasses, but not always. Just because your sunglasses aren't very dark does not mean that they're not polarized, and polarized lenses can be gray, brown, green, or even other colors.
Still wondering if your sunglasses are polarized? Call us! We deal with prescription polarized sunglasses and non-prescription polarized sunglasses of many different brands and types every day, and we'd be more than happy to help you figure it out. You can also leave us a comment below with any questions.
If you've never worn polarized sunglasses before, you should definitely consider giving them a try. They are especially useful for driving, motorcycle riding, extreme sports, water sports, and fishing, and prescription polarized sunglasses are definitely available for those who need corrective eyewear! Keep your eyes safe and your vision clear with a pair of polarized sunglasses this summer; you won't regret it! Thanks for reading, and happy summer!