How to Choose the Best Sunglass Lenses Color
With so many sunglass colors available, deciding which one to choose can be somewhat of a puzzle. There is no hard-and-fast rule, as len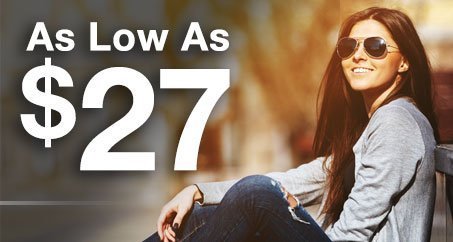 s color choice is subjective, and varies with the tastes and preferences of the individual. However, certain colors have certain properties and you may be able to narrow down the possibilities based on the activities in which you most often engage. Let's examine the popular colors and their relative strengths.
Choosing the Right Sunglass Lenses Color
Gray – This is most commonly used color because it covers such a wide spectrum of activities. It blocks harsh sunlight and glare very well but, unless a very dark version is selection, does not hamper vision. Gray will display colors in fairly true form and will not alter their value much at all. This color is best for brightly sunlit conditions. Other varieties in this color family, with similar properties, are gray-green and smoke. Good for beach use, field sports, fishing, and skiing.
Brown – Another popular and excellent choice for all-around vision and glare reduction. Brown improves contrast and enhances depth perception. It's especially good at limiting diffused light, so it's best used in moderate light conditions, such as weather that is alternately sunny and cloudy. Amber is another variety in this color family. Good for outdoor field sports and general conditions.
Yellow – Nothing improves contrast as sharply as yellow, making it a great choice for hunting, target shooting, golf, and court-related sports like handball, racquetball, and tennis. With yellow it's easier to differentiate the ball or target from the background. Yellow is the best choice for low-light conditions.
Red – reddish lenses block blue light so, like yellow, they provide high contrast. Red reduces eye strain for long-term tasks like computer work or a lengthy driving commute. Other varieties in this color family are pink and rose.
Blue – Blue is another contrast-enhancing color. This one blocks white light such as reflections from water, snow, ice, fog, and mist. Blue makes it easier to see contours and deepens color perception. Purple is a variant with similar properties.
As you can see – pun intended – color selection is far more than just a matter of aesthetics. Select the right color for the right job and you'll not only look good but see well.