How do I know if my glasses fit properly
Having glasses that fit properly is so important.  If you pick glasses that are too big or too small for your face they can break easier, distort your vision, and can look awkward on you.
There are many important factors when deciding what is the proper fit for you.
First, determine what style frame works best for you.  The frame should be slightly wider than your face and should be level with your eyes and eyebrows.
Next, look at the temples of the frame.  These are the arms of the frame and they should curve and fit comfortably behind your ears.
Then look at the bridge of the frame.  This is the piece that sits on your nose.  This should fit snugly.  Some frames have nose pads and others do not, please pick what style works best for you.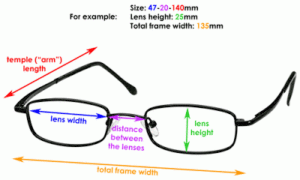 At www.myeyewear2go.com we have a program that allows you to buy the frame only.  This means you buy the glasses without the prescription in it and we ship them to you.  If you like the style frame follow the simple instructions online to return the frame to have your prescription put in them.  If you are not happy with the fit, follow the online instructions to return the frame to receive a refund.  Our user friendly website also shows you the size of each frame in millimeters, this is very helpful when deciding what size may be right for you!
Stay fabulous!
Jessica xo