Google Glass: The Ultimate Guide
Google Glass will ship publicly in the next year and by 2016 there will be roughly 10 million individual Google Glasses roaming the earth.
Google Glass is a type of augmented reality (AR) with an optical head-mounted display (OHMD). In other words, it's a cell phone mounted to your head that's visible at the top corner of your eyes.
The below video is awesome. I was skeptical of the product until I saw this 2 minute video showing what Google Glass feels like first hand:
---
Ultimate Guide to Google Glass
Google Glass was originally called Project Glass. In the early days (just a few months ago), Google Glass was still in its infancy and was considered a project. On July 12, 2013 Google updated their Google Plus Profile from Project Glass to Google Glass.
Motivation Behind Google Glass
Co-founder of Google, Sergey Brin, gives a brief TEDTalk about the motivation behind Google Glass.
Sergey mentions in the above TEDTalk, Why Google Glass, that he noticed society has gone from communicating with each other in person, face to face…to sitting down at a computer by ourselves sending instant messages and emails…and now we're constantly looking down and rubbing a featureless piece of glass (your cell phone). Google Glass aims to change that.
---
Google Glass Rapid Prototyping with Hairbands, Chopsticks, and Clay
Google Glass was prototyped in one day. Actually, it was less than one day. Google didn't waste time thinking and planning – they just started doing. Here is Google's rapid prototyping process:
1. Find the quickest path to experience.
2. Doing is the best kind of thinking
3. Use materials that move at the speed of thought to maximize your learning rate.
---
Google Glass: What it Does
Everything from maps, voice search, and video calls to email, calendar, Google Now and photos are all packed into a tiny hands-free device that's on when you need it and off when you don't.

-Google
---
Features of Google Glass
Pictures: Say "take a picture" and the glasses take a photo of what you're looking at.
Video: The glasses record what you see, hands-free.
Live Streaming: You can share what you're looking at with any of your friends. Live.
Driving Directions: My favorite…Google Glass gives you driving directions right infront of you.

Text Messages: Speak to send a message. Google Glass will transcribe your voice into text so you're head can stay up…looking infront of you instead of down on at your cell phone.
Search Queries: Ask Google Glass any question on your mind. Just like you would type a question into the internet search giant Google.com.
Language Translations: You can translate your own voice and you can translate the voice from someone speaking to you. Brilliant.
Timely Prompts: Google Glass gives you answers and prompts without having to ask so you're not looking down at your cellphone while trying to catch a flight, for example.

---
Social Impact of Google Glass
While there are many skeptics on the new glasses…Google has pointed out there are several major positive social impacts from Google Glass.
Improving world communication with real-time language translation.
When you wear Google Glass you can view language translation instantly. If you're visiting another country you would normally pay for a translator or flip through a dictionary to try to communicate with native speakers.
Google Glass removes the technology barrier.
No need to take out your phone or camera to capture a moment. You may be walking down the runway, playing with your kids, hitting a home run, scoring a touchdown, or teaching a seminar. Each of these occassions are times you are so immersed in the moment you wouldn't think to take your phone or camera out and snap a photo.
Google Glass picks your head up from staring at your cell phone.
This was one of the major ideas behind Google Glass. Technology has helped us isolate ourselves on the train, at parties, and most other social atmospheres. Google Glass aims to change that.
---
Google Glass Explorer Stories
As Google Glass gets ready for retail sales, they are developing the product based on the beta tester's feedback. These first users are being called the "Google Glass Explorers". Here's a video of a Google Glass Explorer using the glasses while inside a NASA location and live streaming the video to a classroom full of interested students.
Learn more about the Google Glass Explorers.
---
Google Glass Design and the Eyewear Industry
I am really impressed with the progress and development of Google Glass. When I first heard about Google Glass I was skeptical, to say the least. I rejected the idea, I ignored the news articles, and shut my brain off to any possibility of Google Glass being a good concept for eyewear.
This was all based on one thing: the Google Glass design.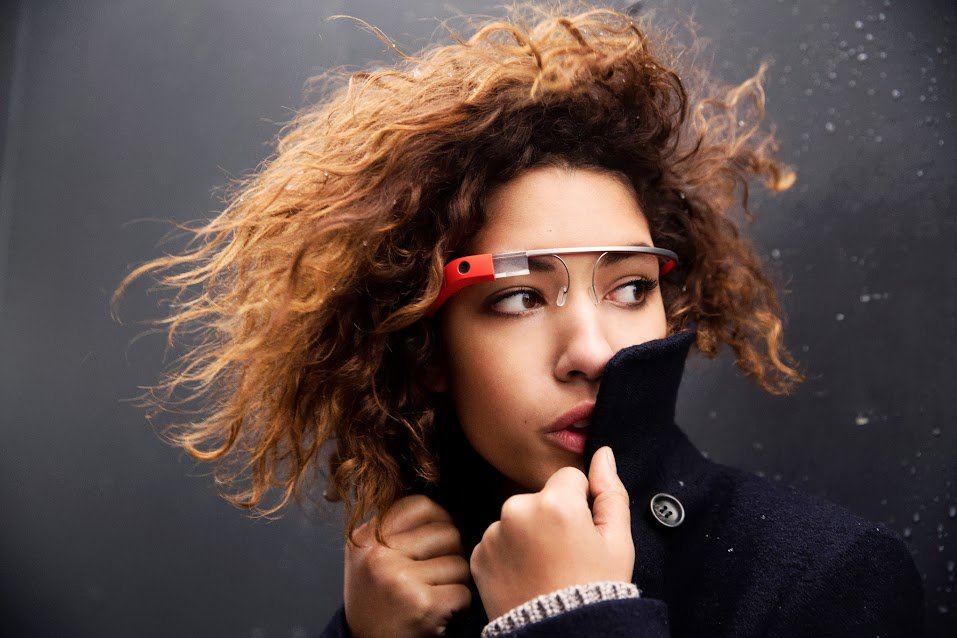 As you can see, the Google Glass design still needs some work aesthetically. It's not exactly the most attractive piece of eyewear…even if there's a model wearing the frames during a photo shoot.
When you read the Google Glass Wikipedia page it says that Google is considering partnerships with top brands such as Ray-Ban, and also is consideering opening up a line of Google Glass retail stores so customers can try the glasses on first hand. MyEyewear2go is currently developing custom frames for Google Glass and is excited to begin releasing them to the public.
---
Google Glass and Personal Privacy
As with most other cloud-based applications there are privacy concerns. Privacy issues with Gmail and the lawsuit about Google violating California's Invasion of Privacy Act (CIPA) only further solidify privacy skeptics' concerns.
Google Glass definitely has sparked the privacy debate for Google once again.
Visit this link for Google Glass privacy questions being asked.
One of the biggest concerns is with Google Glass facial recognition applications. Google decided to not allow any facial recognition applications for Google Glass until they've had plenty of time to think through the pros and cons.
A recent study by the Centre for Creative and Social Technology (CAST) at Goldsmiths, University of London has discovered that one in five Brits want to see Google Glass banned from use.
Google Glass is banned in Las Vegas and a few bars in Seattle have banned Google Glass as well. MGM Resorts already frowns upon any visitor taking photos. They have made their view on Google Glass public by saying they do not like the technology. In general, businesses that do not allow photography or video taping will not allow customers to enter the establishment if they're wearing the new Google glasses.
---
How to Get Google Glass
Google had been accepting applications for early users of the product but that has since closed. They were using the hashtag #ifihadglass for the first round.
If you're still interested in getting a pair you can visit the How do I get Glass page and fill out the short form to be considered on their next round of testers.
---
My Personal Thoughts on Google Glass
The world we live in is changing. If you don't want your information made public than you shouldn't put it on Facebook, in emails, or anywhere else on the internet.
If you want to enjoy the benefits of the cloud and the innovations of technology such as Google Glass, then you should understand your information is being passed through the air. Anyone can grab it.
One thing I'm excited for is the increased access to information Google Glass will provide. We'll be multi-tasking more, learning at a faster rate, and I think the more people that use Google Glass will mean the better our Google Maps application will be. Eventually, we'll have HD video from all over the world.
—-
Google Glass Reference Links: