A Girl's Guide to Makeup with Glasses
Don't hide behind those glasses! You've got a beautiful pair of eyes underneath those frames, so let's show them off.
I am going to give you some tips for finding the best makeup look for you! Think of these less as rules and more as guidelines. You can always add you own favorite techniques, no one knows what looks good on you better that you do!
Makeup with Glasses: A Guide for Girls
1. Brows
This is a good place to start. Brows frame your eyes and face so it's a good idea to make sure they are neat and defined. Be sure to tweeze and trim your brows when they get out of hand. If you have brows that are too light or sparse (like mine), fill them in with a brown pencil or powder before you start you eye makeup. The shape you choose depends on your natural eyebrow shape and your style.
You might be tempted to think that because you wear glasses, you won't need to fill in your brows. They will be hidden behind the frames anyway, right? Well, no. Your frames aren't going to show your expression when you talk or laugh, so you still need to keep your brows defined. Now you don't have to make them 80's Madonna bold, but they should still stand out when your glasses are on.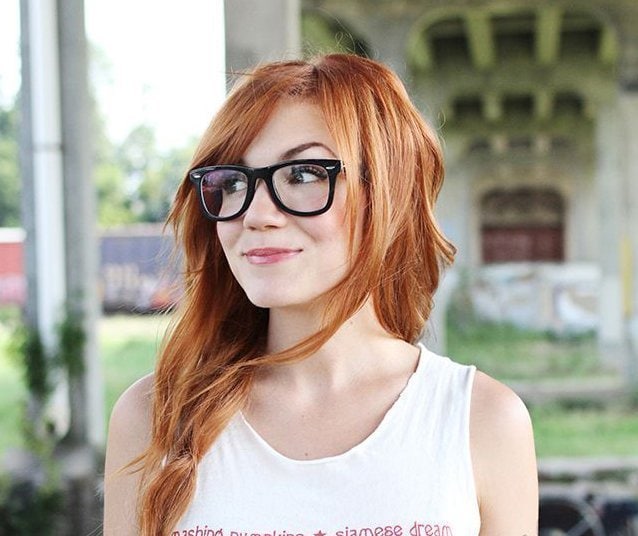 2. Defining Your Eyes
This is the tricky part. You need to make your eyes stand out behind your frames. Here it's ok to go bold since it's harder to see more subtle looks behind the glass. You don't want to overdo it though, too much makeup can make your eyes look smaller (I know right! Too little and you can't see the makeup, too much and you won't see your eyes! This is tricky territory.) I also would recommend keeping the boldness to the top lid. Anytime you add dark colors around the bottom lashes or surround the eye completely with makeup, you run the risk of making your eyes look smaller. So keeping minimal product on the bottom minimal would be the way to go here.
You should be ok if you choose one of these two techniques: bold liner and subtle shadow or bold shadow and thinner/softer liner. This is an easy way to get a defined eye without going overboard. Be sure that the colors you choose go well with the color of your eyes and glasses. For example, if you wear red glasses you might not want to wear a pink eye shadow (but if you do, own it!).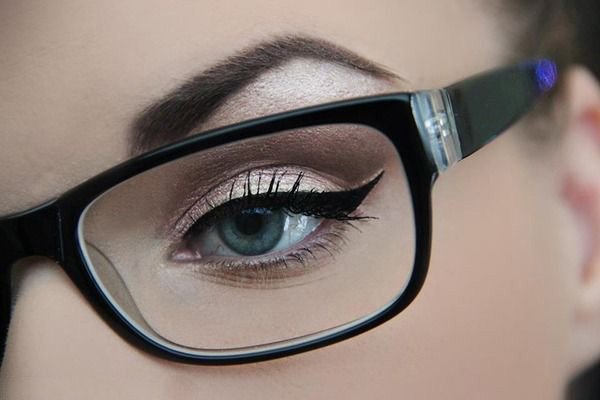 3. Mascara
Wear it. Use black. Enough said, moving on.
4. Foundation/ Concealer/ Powder
The simplest thing I can say for this is less is better. Too much product caked on your skin can rub off on your glasses or cause them to move around on your face, which is never fun. Try using lighter or sheer coverage products to get that airy natural look.
If you have super sensitive skin like me, you might even skip this step. Foundation irritates my skin and causes a lot of acne. Thanks to the magic of dermatological medicine, my skin is fairly clear, so I just use foundation under the eyes.  Either way, if you use a lighter foundation or brightening powder under your eyes, it will reflect more light, drawing more attention to your beautiful eyes.
5. Blush
You can't go wrong with a light natural blush. Using bronzer of a light pink or peach will give you a great natural look that should go well with most glasses. If your makeup is simple, like black cat eyeliner, and your glasses aren't too brightly colored you can get away with using some darker or brighter colored blush, like fuchsia. Be sure that you apply you blush with a fluffy brush and tap off the excess before you apply it to your face.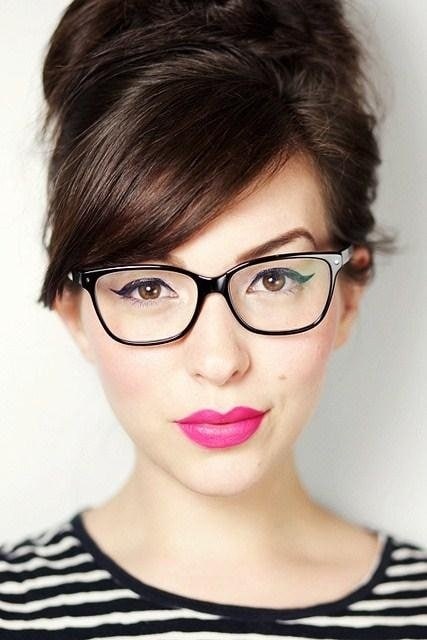 Being good at makeup isn't something you are born with; it takes a lot of practice. If you've never done your makeup before, never fear, you will get better over time. If you're already good at makeup, hopefully these tips will help you on your makeup journey. I started wearing makeup when I was about 16 and looking back, it was really bad. It takes some trial and error to get the perfect look for you face, style and personality. That doesn't mean I've figured it out either, I still change it up and play with new looks all the time, so feel free to experiment!
Good luck ladies!