Fog Buster Wipes for Safety Glasses
Your safety glasses endure some harsh environments and protect you from all forms of airborne contaminants.
Fog Buster Wipes for Safety Glasses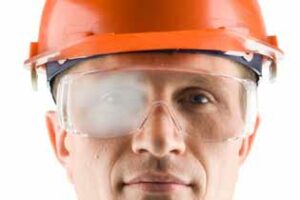 They can have coatings that filter out annoying or dangerous light, features that provide peripheral protection, and guard against chemical spills. They observe the highest ratings for impact resistance in case of accidents or to deflect objects that can strike your eyes at a high rate of speed. And today's safety glasses are available in a striking variety of contemporary, stylish, streamlined formats. Gone are the days of chunky, bulky, heavy safety glasses and goggles; with the options open to you now, you can protect your eyes with comfort and ease and look great doing so.
With all the developments and options available in safety eyewear, there's really no reason not to wear them if you risk exposure to any kind of activity or environment that can be hazardous to your vision. Yet still many forego the benefits and peace-of-mind that safety glasses provide. One of the leading reasons is the complaint that fogged lenses render safety glasses nearly unusable; warm air conditions, improper ventilation, or excessive body heat lead to moisture build-up, and one must constantly pause in their task and remove their safety glasses to wipe off the lenses.
Many modern safety glass frames compensate for this problem with anti-fog coatings and vented designs, but depending on your model and the conditions under which you use it, the problem can still persist. Today we'll discuss an easy, inexpensive method to combat fog, one you can use regardless of the style, age, or lens arrangement of your safety eyewear.
The best way to deal with moisture build-up is to prevent it in the first place, and that's exactly what the Hilco Fog Buster Lens Treatment System does. Hilco's two-part, single-use system consists of a pre-moistened cloth that contains an anti-fog solution that is applied to the lenses and a special lint-free dry cloth that is used to spread and buff the solution. An application of Fog Buster will add a water-repellant coating to your safety eyewear lenses that will prevent water molecules from coalescing into a vision-obscuring mist or fog.
Below are some of the features and details of the Fog Buster Lens Treatment:
Safe and ideal for most eyeglasses, sunglasses, sports goggles, safety goggles or glasses, and industrial safety eyewear.
Optimized for use with ophthalmic lenses, ski goggles, scuba masks, and helmet shields.
Goes on clear and stays clear.
Prevents lens fogging for hours or days, depending on application.
Not recommended for anti-reflective coated lenses.
Convenient, single-use towelette system.
Flexible packaging that is easy to pack and inexpensive.

Fog Buster wipes are available in three different quantity arrangements. A 10-count box is perfect for trying the product out – for a price that rivals a good cup of coffee. Refills in the 30-count or the 60-count size make Fog Buster wipes even more economical. If fog and moisture build-up plagues your safety glasses or, worse yet, prevents you from wearing them, give the Fog Buster Lens Treatment a shot at clearing up your vision.