Finding Nike Prescription Glasses for Children: Giving Them Comfort With Style
If you have any experience with Nike prescription glasses, then you know that they make some of the most durable and stylish eyewear for men and women. However, what you may not know is they make prescription eyewear for children as well.
We don't always stop and take time to think about how wearing glasses affects our children, the way they feel, and how they're perceived by their peers. It's not always possible to afford things like Lasik eye surgery or eye contacts. Your children may fret about wearing glasses in places like school, but Nike has them covered.
A child's biggest fear is perhaps being mocked by their friends for wearing overly formal glasses. In reality, you'll find a lot of Nike glasses designed for kids they'll be proud to wear every day. Nike focuses heavily on style so your kids still look and feel cool while getting dependable durability.
We offer this type of Nike eyewear here at Myeyewear2go where your children can finally choose something suiting their personalities.
Modern Eyewear for Children
Your kids might prefer having more modern frames to fit in and look trendy. They'll find a lot of options, especially with different frame styles and colors. One thing they'll like in features is Nike's patented spring hinges you'll find on most to all of their prescription glasses.
With spring hinges, you get an extra layer of durability if your kids happen to drop their glasses in the classroom or on a playground. While Nike does give you a chance to customize the material you want (from standard plastic to high index glass), you can depend on all materials being durable from the start.
Along with an occipital fit temple design, your children can wear these without feeling like they're wearing a weight on their face.
Retro Styles
Your child might posses one of those "old soul" spirits preferring retro styles in everything they wear or buy. Nike realizes there's a lot of kids out there like this who don't mind wearing retro eyewear frames to still look trendy.
They provide a lot to choose from, and kids can take on a look from a different era without worrying about flimsy materials.
The Nike 5516 is a good example of what's available, including a frame style straight out of the 1950s. At the same time, your child can choose from a bevy of fun, sporty colors. In this particular model, you're able to pick from black, brown, forest green, or blue.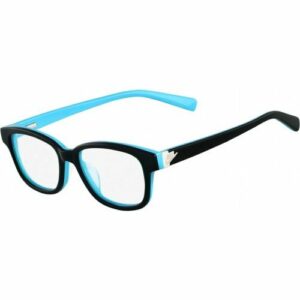 Lens colors are also available and range from transition gray all the way to light pink.
Various coating options have availability as well with a little added cost. It's possible to add anti-reflective coatings if your kids have to use their glasses outdoors considerably while playing sports.
Sporty Styles
We all know Nike is still #1 in sports eyewear for adults, yet they've paid attention to children who play sports during or outside of school. Your kids may want a durable pair of prescription glasses that fit in with a particular sport they play regularly.
Fortunately, you'll find some great frame options giving you the same spring hinges you see in the other styles above. Plus, you get unique color choices from grey blue/cyber green to black crystal/grey black.
It doesn't stop there on Nike giving you myriad choice, particularly in the type of lenses your kids need. They can easily get single vision, bifocals, or progressive bifocals with added fees.
Accessories are extensive on all their eyewear, including giving them a microfiber cleaning cloth, fog cleaning towelettes, and carrying cases as just some.
Contact us at Myeyewear2go to look at our entire inventory of eyewear for children so you can help them live a better life.