The Top 5 Fashionable Women's Prescription Safety Glasses
Safety glasses are something quickly becoming inescapable in the workplace. If you work anywhere where there are moving parts, flying particles, or even just a variable environment like a construction site, the requisite safety gear is no joke. Just as you wear gloves when dealing with hot or fast-moving things and a hard hat when there's a risk of falling objects, you wear eye protection to keep your eyes and upper face safe from the work environment.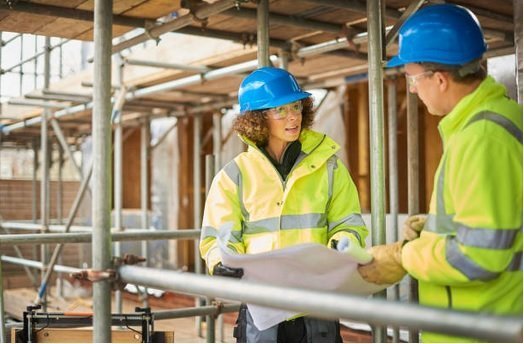 Of course, nobody really likes those enormous clear plastic glasses that fit on over your normal glasses.  Many professionals with careers that require safety gear, especially if they wear prescription lenses, choose to buy their own prescription safety glasses, but what about the ladies? Most safety glasses are big, bulky, and not at all fashionable or even mildly flattering. Even if you order yourself a pair of custom safety glasses, the vast majority of styles available will look just like everyone else's and you'll still feel odd if you wind up wearing them into the office and to other tasks.
If you're tired of using default safety glasses or losing your personal pair in a pile of seemingly identical masculine glasses, why not make a change? Instead of the same 'ol safety gear, find something that makes you feel fashionable, stunningly attractive, and surprisingly safe all at once. For safety glasses you can wear around the worksite and the office without feeling out of place, here are five of the most fashionable women's prescription safety glasses available.
1) RX-230 – The Spider Web
Though these frames don't come with their own elegant names, the RX-230 is anything but clunky. In fact, with a distinct 'Breakfast at Tiffany's' look, no one would ever suspect that these wide round lenses in their fashionable black frames are safety glasses at all. They look like the kind of designer frames some women pay hundreds of dollars for but instead are surprisingly affordable safety glasses. The 230's feature flaring oval lenses with rounded temple corners rather than the usual points at the corners. The frames are an incredibly durable yet elegant TR-90 black plastic and the temple pieces connect at a wide, round hinge for optimal splash protection. On the wide section of each temple bar is a beautiful white spiderweb backed by a white segment on the inside, giving your glasses a subtle storybook beauty. With these ANSI Z87.0-200 approved 230s, you'll look like a movie star on any worksite. Keep your autograph pen ready and be prepared to prove you're wearing safety glasses because you certainly won't look it.
2) ArmourX 7011P (RX) – Pretty in Purple
If you think safety can't be cute, you're dead wrong. The ArmourX 7011P's take workplace safety in an entirely new direction with these adorable soft purple safety glasses. If you want to stay safe while maintaining an undeniably feminine appearance, you can't go wrong with the 701P's. None of your male coworkers (and probably not even your female ones) could possibly mistake your safety glasses for theirs with these distinctly girlish rectangular plastic frames made from sturdy cellulose acetate.

The 7011P's feature flared rectangular lenses set into a semi-translucent purple frame with a soft plastic integral nose piece suitable for sharper nose bridges. The temple bars are connected via a spring metal hinges and end in matching soft purple plastic ear pieces. Perhaps most notably, though these safety glasses look small and adorable, they also come with permanent clear side shields to protect you from splashes and unexpected projectiles coming from the side. And in case you were wondering, yes, these are also ANSI Z87 approved.
3) ArmourX 7017P (RX) – The Modern Feminine
As it turns out, ArmourX knows what it's talking about when it comes to women's safety glasses. When you wear a pair of glasses to work, it's more than just something you have on your eyes, the glasses become an accessory, an extension of your appearance, and part of how people will identify you at a distance. With the ArmourX 7017P model, there will be no mistaking your identity (or at least someone wearing your safety glasses) from across a worksite. The most distinctive part of the 7017P's are the unique wide, squared temple bars. In either brown and gold or purple and silver, the temple bars feature an abstract, almost plant-like cutout pattern with the lovely reflective secondary color underneath. Besides the side decor and comfy earpieces, the 7017 features flaring rectangular lenses in a dark purple stainless steel frame with adjustable nose pieces for you ladies who have trouble with all-in-one plastic nose pads. Finally, like the previous pair of fashionable ArmourX women's square frames, these are also ANSI Z87 safety approved and come with permanent clear side shields.
4) OnGuard 230S – Bat Girl
Ever want a pair of safety glasses that make you feel like a super hero? Let's face it, super heroes are all about safety and no one's got better gear than the Bat-team. The OnGuard 230S model has a thicker frame design than you might be used to but still manage a surprisingly fashionable affect in heavy black lines. The lenses themselves are an interesting flared oval shape without taking on the usual cat shape and the frames are uniquely molded to be round at every edge. This face-hugging model gives you the freedom to move around in tight spaces without worrying about the frames catching on anything and you can probably even roll around safely without risking them falling off. ANSI Z87 safety approved, the sleek design ensures features subtle side shielding without any extra pieces. With the distinct impression of protecting your secret identity, you're sure to feel cool wearing these both on and off the worksite.
5) RX-W200 – Seeing Stars
Our final selection brings us back to move star glamorous with these beautiful wide-framed RX-W200 models. If you like wide, rounded rectangles for your lens shape, these might just be the fashionable safety glasses for you. The frames themselves are made from sturdy chemical resistant TR-90 material in both black and dark blue. The temple pieces connect at the wide flat point on the sides of the rectangular frames to create a natural splash guarded area but the most interesting part about the W200's are the collection of little stars that decorate the sides of both temple pieces. Uneven and artistic, you can combine elegance and playfulness in a single pair of frames that look more like they belong on a runway than a worksite but they're ANSI Z87.1-2003 approved to technically it's safe to wear them anywhere. With transition lenses, you can even use them for triple-duty as everyday glasses, safety glasses, and stylish driving shades.
Glasses aren't just something you wear to keep your eyes safe and see clearly, they become part of your face and shape how your coworkers view you. As we get closer and closer to complete female equality in the workplace, it's important to remember that you don't have to wear men's gear to do interesting work. Everything you do on the job can be done in a feminine way from not being shy about steps and power tools to your personal safety equipment. For more tips on finding fashionable women's safety gear, contact us today!