Don't put those sunglasses away just yet !
We make glasses all year long. Safety glasses for work, specialty glasses for Doctors and Scientists, every day glasses  and  sunglasses as well. Sales of sunglasses always picks up in the spring with pe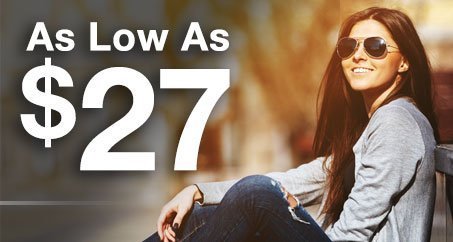 ople getting ready for the summer months. But truth be told, sunglasses are needed even more in the winter time.  With the change of time sun glare becomes a big problem in the early winter. That beautiful blanket of snow acts like a giant mirror reflecting sunlight everywhere. In fact glasses designed for use in the Arctic have a sunglass tint twice as dark as what is normally sold for regular ' Sun ' glasses !
In Minnesota, where they know a thing or two about winter, their state Optometric Association had this to say,  "What people don't know is that there is more harm done from UV radiation in the winter months because you get snow glare-and UV rays end up hitting you from above and below your eyes," says Chad Christenson, O.D., president of the MOA and a family eye doctors at Cambridge Eye Associates, P.A., Cambridge, Minnesota.  "UV glare or snow glare is especially dangerous during hazy sun conditions because people don't think they need sunglasses.  In fact, ther
e is risk of up to 85 percent of UV rays being reflected upward and that leads to sunburn of the yes or photokeratitis.  And UV rays damage is cumulative so they are thought to contribute to eye diseases such as macular degeneration and cataracts."
So be smart and make sure you have a good quality pair of Sunglasses to get you through this Winter. You need to protect yourself from sun glare, reflective flare and snow blindness.  We have many brands available such as  Wiley-X a great brand that is also safety approved. You might want to look at the ever fashionable and sporty NIKE. We also have the newcomer to the market Spy Eyewear and the forever classic Ray Ban. If you need a prescription we can do that too, and we also have a great selection of fitovers.
Remember the Sun shines all year long, and even though the days are shorter, you still need to protect your precious vision. And it couldn't be easier than just by wearing a pair of sunglasses ! So please don't forget to get your sunglasses ready for the long winter ahead. And know that whatever you need, myeyewear2go can provide you with the sunglasses that fit your style, mood and budget.