Does Pupillary Distance Change with Age?
When lenses are cut and placed into a frame, one critical measurement that must be taken into account is pupillary distance.
Does Age Effect Pupillary Distance?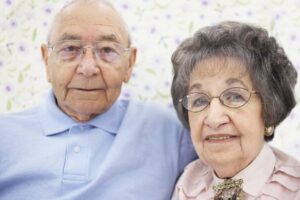 This is the measure of the distance between a subject's pupils, in millimeters, and it's necessary in locating the optical center of the lenses.
To obtain your pupillary distance measurement, you can either visit your local optometrist or optical lab and have it measured by machine (using a "corneal reflex pupillometer) or you can measure pupil distance yourself with a millimeter ruler. We recommend that if you measure pupillary distance yourself, you try several attempts to be sure you get a fairly accurate measurement.
Examples of pupillary distance measurements are listed below, indicating the typical ranges for various groups.
Average pupillary distance for an adult is between 54-68mm, with acceptable measurement deviations generally falling in between 48mm and 73mm.
The range for children is approximately 41-55mm.
The large majority (95 percentile) of adult males in the USA have a pupillary distance of 70mm while a small minority (5 percentile) measure 55mm.
The range for adult females in the USA is between 65mm and 53mm.
For Europeans the figures equate to roughly 1mm smaller than the above measurements.
Here at Myeyewear2go.com, we often advise customers on the proper procedure to accurately measure their own pupillary distance and we field questions on the matter. One that we're occasionally asked is, "Does pupillary distance change with age?"
The answer is – as many answers tend to be – both yes and no. It depends on whether you are dealing with a child/adolescent or a full-grown adult. Since pupillary distance changes with physical development, a growing child's measurement will likely change over the years. But once reaching adulthood, very little change in our skull shape takes place, and pupillary distance remains constant. You can see from the list above that a child's pupillary distance is often between 10 and 30 millimeters smaller than an adult measurement…and that child's measurement will not fully stabilize until they are an adult.
So, even if you've already measured or know the pupillary distance of your child or teenager, it's best to measure it again before buying them a new pair of glasses. It's very possible that a growth spurt has altered their measurements somewhat. But if you're measuring for yourself or an adult in their early-twenties or older, chances are the pupillary distance will remain constant for the rest of that full-grown adult's life.

As always, feel free to contact us at Rx-safety.com if you have questions regarding the measurement of pupillary distance or any other questions or concerns.