Do I need polycarbonate lenses?
What is polycarbonate lenses?  Polycarbonate lenses are UV resistant and 50 times stronger than any other lens material.  They are plastic and offer the most impact resistant material for your glasses.  Many people consider using polycarbonate lenses especially for children's glasses, sports goggles and for their safety glasses because they are so lightweight and offer impact resistance.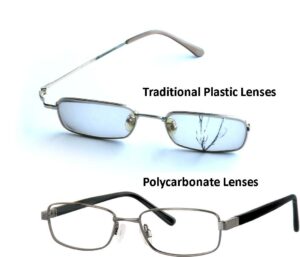 In my opinion I would absolutely use polycarbonate lenses because of their impact resistance, UV protection, and their lightweight comfort.
I would also consider adding a scratch coating which is a clear, hard coating added to the lenses to make the lenses more resistant to scratches.  Polycarbonate lenses are considered a "soft" material because of their lightweight, they need to have a scratch coating to prevent surface scratches. By adding the scratch coating it makes the lenses almost as hard as a glass material.
Polycarbonate lenses are beneficial for glasses because if you are hit in the face while wearing glasses they can help protect your eyes.
Stay fabulous!
Jessica xo