Clear Glasses
Eyeglasses aren't just for vision correction anymore.
Clear Eyewear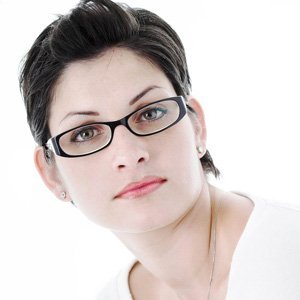 Gone are the days when glasses possessed only negative connotations. Years ago, if you wore eyeglasses you were often straddled with labels like "Nerd," "Four-Eyes," "Bookworm," or "Brainiac." Glasses were associated with intelligence but also, by default, a lack of agility, physical ability, or coordination. Frame styles were limited, bulky, and often unattractive. People wore glasses only if they had to.
Today, eyewear is just as much a fashion accessory as it is a visual aid. It is now common for people who have no need of corrective lenses to still purchase and wear eyeglass frames strictly for the aesthetic appeal. This can be traced back to the Seventies and early Eighties, when frames first started to evolve beyond the functional and into elements of personal expression. In recent decades this trend has continued, and eyeglasses are now available in a staggering assortment of styles, colors, and patterns. Frames that are designed to compliment any face, any outfit, any personality.
In other words, these aren't your grandparent's eyeglasses.
The eyewear-as-accessory trend has led to the availability of clear lenses as a method of eyeglass access for those who have 20/20 vision. Most eyewear sellers offer non-prescription acrylic or polycarbonate plastic lenses for many of the frames they sell. And because less work, time, and material is involved in producing non-prescription lenses, they're much more cost-effective to obtain. Prescription lenses require machining, cutting, grinding, and polishing; they're also generated from a number of different glass or plastic materials with multiple tint and additional-coating options. Clear lenses are so much cheaper and easier to produce that the consumer is basically paying only for the frame they select.

If you're in the market for "decorative" glasses, visit rx-safety.com to shop our extensive inventory of brand-name frames. Oval, rectangular, oblong, square, or round lenses; in retro, funky, classic, or luxury fashions; housed in wayfarer, cat eye, celebrity, aviator, or dozens of other styles…no matter what your taste, you'll find a frame that accentuates your wardrobe for that stand-out look. And many can be ordered with clear lenses…so even if you don't wear glasses, you can wear glasses!