Celebrity Aviators: Sunglasses Stealing the Spotlight
Everyone's talking about Jennifer Lawrence and not just because her newest Hunger Games movie comes out this fall. This celebrity seriously knows how to rock her aviator sunglasses.
Celebrities love their aviator sunglasses. The timeless classic was founded by Ray-Ban as a pair of sunglasses specifically for pilots. Now, aviator sunglasses are worn by our favorite celebrities on a daily basis.
4 Celebrities That Love Their Aviators
1. Jennifer Lawrence
The actress recently showed up to the Christian Dior Fashion show in Paris wearing what some in fashion are calling a crazy outfit, but I think it's crazy original. And while her harem pants may have stolen the show, her glasses deserve a lot of credit too!
The Silver Linings actress is known for her impeccable red carpet style and is currently the face of Miss Dior, but isn't usually much of a risk taker, so it comes a shock to most that she would wear these Dior asymmetrical billowy pants and crop top to the fashion show.
If she was sweating the critics reviews, she didn't show it one bit behind her stylish Dior black aviators.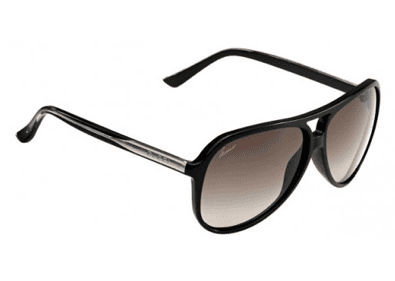 If you want to rock this look then you need some large black aviator sunglasses. If you like a more bold look try out these Gucci Black Frame Aviator Sunglasses with Grey Lenses.
These are perfect if you are trying to tell those pesky paparazzi to mind there own business (this happens to everyone, right?).
---
2. Heidi Klum
She's not the only one sporting aviators this summer. Gold frame aviators are hugely popular among our celebrity friends. Heidi Klum was recently spotted on vacation with her family in Paradise Island, Bahamas wearing gold aviators with her beachy look.
Her hair might be channeling Bo Derek in '10, but her glasses and scarf are modern rocker style all the way.
---
3. Jennifer Aniston
Jennifer Aniston is so in love with her Ray Ban Gold Aviators. She can be seen sporting them everywhere from movie premieres to shopping trips. I wonder if she sleeps in them?
---
4. Johnny Depp
Don't think this is a girl's club! Johnny Depp recently took a break from the iconic tortoise shell glasses he usually wears and tried out some gold aviators with blue lenses for the Disneyland premiere of his newest film, The Lone Ranger.
His colorful glasses went well with his blue pinstripe suit and bolo tie (because we didn't know it was a cowboy movie!).
For an identical look to the hollywood trendsetters, these Ray Ban Gold Frame Aviator Sunglasses with Green Frames are a perfect fit. These lightweight metal frames will help you achieve a timeless look you can rock year after year.
Which celebrities do you want us to highlight next?
Don't forget to post pictures of yourself rocking your timeless aviator styles!