Can You Wear Drivewear Lenses at Night?
In the "olden days" – circa two decades ago, a virtual eternity in the eyewear industry – a company called Transitions® popularized a unique form of lens coating.
Can You Wear Drivewear Lenses at Night?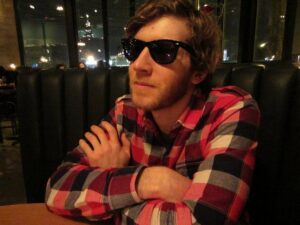 This coating performed the seemingly miraculous task of automatically darkening the lens in the presence of ultraviolet light and returning to a perfectly clear state in the absence of UV light. With this coating your regular prescription glasses would essentially transform into prescription sunglasses – only when you needed them to, when they encountered the sun – then they'd revert back to clear lenses.
These "wonder lenses" are called photochromic lenses, although they're also referred to as "transitions" in honor of the company that developed them. In the years that followed this technology proved so useful that it became a common option amongst prescription eyewear purchasers, and continues today to be a top seller. But Transitions® continued with their research and development and made adjusts to photochromic lenses to address issues raised by consumers. One of these issues was the fact that because most modern automobile windshields are already treated to screen out UV rays, a driver's photochromic glasses are only exposed to UV light from the side window glass and thus do not fully darken when one is driving.
The company's answer, called DriveWear®, was recently released.
DriveWear® lenses react to both UV and visible light conditions, so they will darken in sunny conditions, even when you're situated behind a UV-treated windshield. They feature unique photochromic dyes that react to light in both the visible and invisible ranges, and also incorporate polarized filters, which make them ideal for driving at any time of the day. In doing so, DriveWear® lenses combine two of the most advanced, specialized, and modern technologies in the industry: Transitions® Photochromic Technology and NuPolar® polarization. DriveWear® lenses adjust to light conditions in the following manner:
Low Light Conditions – DriveWear® converts to a greenish yellow for high contrast vision. Green/yellow offers exceptional glare reduction while making optimum use of available light
Medium Light Conditions – lenses adjust to a brownish hue, which offers glare reduction similar to green/yellow but also limits exposure to the extra light
Full Light Conditions – during the brightest conditions and in full direct sunlight, DriveWear® lenses will transition to a darker reddish/brown to provide maximum light reduction
This breakthrough has been a boon to drivers, who no longer need to use a separate pair of sunglasses or clip-ons while on the road. There is one question about these lenses, however, that frequently crops up: Should DriveWear® lenses be used at night?

The answer is no. Since DriveWear® lenses will revert to a clear state in the absence of UV light, they offer no protection from road glare when it gets fully dark. Like all photochromics, they are purposefully designed so that they do not react to artificial light sources like headlights and streetlights…a necessary function, as you would not want the lenses to darken at night. Thus, as with any glasses you'd use to block the sun, DriveWear® lenses should not be worn while driving at night. To address nighttime glare, you should consider a pair of glasses with an anti-reflective coating, utilizing either clear or yellow lenses.