Are You Buying Eyeglasses? Keep Your Eyes Wide Open
If you were in a room with ten people who were over the age of 50, how many do you think will need prescription eyeglasses? The number is probably higher than you think. We would say about seven or eight of those adults would need eyeglasses.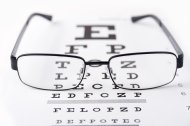 Fortunately, for these adults who need eyeglasses, they have a variety of lens materials, frames, and coatings. Since there are so many options, it is important to pay careful attention to all the information pertaining to eyeglasses.
Size Is Important
After you have decided that it is time for you to wear eyeglasses, you should make an appointment for an eye exam. After the eye exam is complete, you will probably be excited to look at all of the frames that are available for purchase. However, you should not only look at the style and designs of the frames.
When many turn 40 years old, they will notice their vision is becoming blurred, especially when they are reading or using the computer. Presbyopia is a stiffening of the eye lens and it makes it harder for people to focus on things that are right in their face.
If this is not your first time wearing eyeglasses, you could have presbyopia. If you do, then you may want to ask your optometrist about multifocal lenses. Choosing small frames because they are in style may not be the best route to take if you have presbyopia.
Your Choice Of Lenses
Although we call the things we wear on our faces glasses, not all lenses are still made of glass. Many lenses that placed in the frames are made of plastics. Wearing plastic lens is great for so many people because they are thin and light. Since they are lightweight, they are less likely to break if you somehow drop them from time to time.
One of the lens type that gives you the best view and a comfortable feeling is a high-index lens. High-index lenses are thin, light, and comfortable. You may be thinking that since these glasses are so comfortable and light that they must not be stylish.
If you are worried about wearing eyeglasses that will make your eyes stick out or eyeglasses that will give you the "coke bottle" look, you do not have to worry about this when you wear eyeglasses that have high-index frames.
When you are buying eyeglasses, it is important that you take your time to choose the right frames. When you are considering frames, it is fine to look at frames that are attractive to you and comfortable on your face. However, when you are choosing the lenses for your eyeglasses, you should consider the following factors:
The vision(can you see out of the lenses?)
The comfort level when you place them on your face
The appearance and fit of the lens when they are in your frames
Are they safe for you to wear? Are you going to put yourself in harm's way because you are wearing lenses that are hurting your eyes?
Some people choose frames and lenses in a short period of time. However, when the glasses are actually placed on their faces they do not like the style or fit of the glasses. This is why you should take all the time you need when you are inspecting frames and lenses.
Take enough time to consider all of your choices because these are the glasses you are going to wear to help you see your surroundings. You do not want to regret your choices when you make it home after picking up your glasses.
If you would like more information on how to buy eyeglasses, contact us today.