Top Bolle Prescription Safety Glasses Online
When it comes to safety, the eyes are one of the key areas that require ultimate protection. Whether you are playing hard sports or working in an industry that is at risk for eye injuries,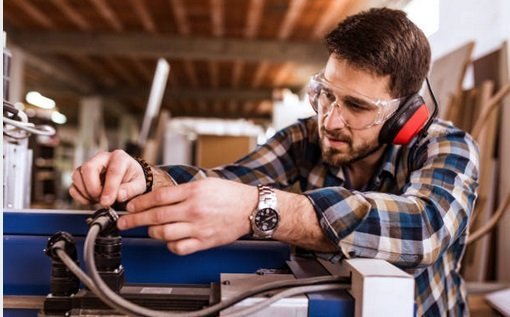 keeping the eyes protected is a top priority. If you already wear glasses, then you may think you have protection already. However, even with transitional lenses, regular prescription glasses are not enough to protect your eyes from the following: Sporting activities such as cycling, skiing, sailing, snowboarding, golfing, squash, badminton, handball, football, basketball, tennis, softball, and baseball.
Eyewear is also necessary if you work in any of the following industries/jobs:
Construction work
Drilling
Metal grinding
Automotive mechanical work
Blacksmith
With these type of activities, you need superior eyewear that will protect. It's also important to find safety glasses that are prescription ready.
Introducing Bolle for Prescription Safety Glasses
The Bolle name is synonymous with quality. For over 130 years Bolle has made a name for themselves by manufacturing products that continually meet the high standards of quality and endurance.
Bolle History
Around since 1888, this company brand is a leader in producing durable items down through the years. Their rich history in manufacturing began with producing hair items. Then after World War II, they led the world in "molding nylon to the toughest standards in the world."
After their success with the nylon, Bolle went on to develop safety glasses and goggles. These were added to the Bolle brand in
1950. By 1956, the famous "cat eye" sunglasses were becoming popular, thanks to Bolle's innovation and creativity. It didn't take long before sporting safety glasses were a trademark product for Bolle, and one in which they are well known today.
Top Bolle Prescription Safety Glasses
The unique features of the Bolle glasses make them a real staple for the person needing safety eyewear that comes prescription ready. To help you make the best decision for your next pair of Bolle prescription safety glasses, we developed our top picks for you.
Bolle Sport Baller Strap Prescription Safety Glasses
Enjoy added security when you put on these durable Bolle Sport glasses. The flexible strap wraps easily around your head. Adjust the strap for a custom fit. The handy click and twist system allows you to snap your strap in place with a quick click and you're off to play or work. You will have a snug and secure fit with these safety glasses that look similar to goggles. The Bolle Sport has a vented area around the lenses so that moisture does not build up and cause fogging. This ensures you will have an unobstructed vision while you go about your day. Bolle utilized an innovative shock absorption system that brings together both hard and soft materials into one comfortable and durable product. The soft material ensures comfort, while the hard material provides maximum protection. You'll love the stylish colors of the B
olle Sport. Choose from either:
Bolle B808 Prescription Safety Glasses, Plastic Frame
If you're looking for something simple, yet want solid protection, then these glasses may be for you. A slick gunmetal-colored plastic frame is a rectangular shape with side shields to protect the eyes from flying debris. Standard temple arms complete the eyewear. The unique feature of these glasses is the screw-less frame. The side shields are integrated right into the frame for a seamless look.
Bolle Sport Home Run Prescription Safety Glasses
Vibrant, sturdy, and safe are words used to describe these attractive prescription glasses. Designed to withstand serious playtime, these glasses are great for squash, handball, basketball, badminton, and soccer. The technology design allows air to flow through the lens keeping the user cool and eliminating moisture build up. In addition, a special anti-fog feature guarantees fog cannot cling to your lenses. It doesn't matter what the circumstances are, fog is eliminated through special technology used on the Polarized 8 base models. As with many of the Bolle prescription glasses, they will have the shock absorption and the click and snap strap system for your convenience. Choose from three vivid color combinations including:
Black with blue
Navy with orange
Black with red
Bolle Sport Field Prescription Safety Glasses
If you are one that enjoys playing sports, then check out the Sport Field glasses. They are a highly durable pair of glasses that have passed several safety standard requirements such as the ANSI Z87+ safety, EN166 Safety, and the ASTM F803. These hot looking glasses wrap securely around your face keeping out the dust from those sport outings. These glasses are awesome protection if you are out playing squash, handball, basketball, soccer, tennis, or badminton. As always, find the easy click on strap system and shock absorption technology with these glasses. Select your favorite color from the ones listed below:
White with mint
Black with blue
Black with red
Bolle Sport Swag Strap Prescription Safety Glasses
For the youth in the family, you will love the Bolle Sport Swag. These glasses are specifically designed with young people in mind. Keeping your kids safe while they participate in outdoor activities and sports is a top priority for parents. Kids will love the comfortable fit that comes with Bolle's strap, and parents will love that they can easily adjust the strap if their child grows throughout the year. Glasses wrap snuggly around the side of the eyes keeping anything from flying into the eyes while the child is playing outdoors. Choose from unique colors, which include:
Purple
True blue
Black and electric blue
Find Your Favorite Pair of Bolle Prescription Safety Glasses
The Bolle name has been around for over 100 years, making them a true leader in technology. From the humble beginnings of making hair combs to the creation of their prescription safety glasses, Bolle is a known name all across the globe. They have built a reputation for quality and style with their line of safety eyewear. Join the many people who have discovered the difference a pair of glasses can make. Contact us today for more information about Bolle eyewear.